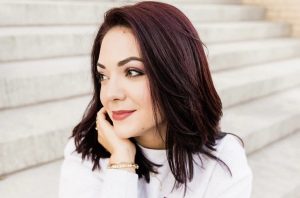 By Maralisa Marra 
For the last few years, I have studied art and literature and the impact that they have upon the world around us, and the ability they have to bring us together.
Growing up in Shinnston, the city lacked artistic outlets, creative culture, and attention to the importance of what art can do for a community. I have been in many situations where people create bonds over their favorite literature, Renaissance painters, classic films, and 80s hair bands.
However, not one of those situations has taken place here in our little town.
Now, we are determined to change that.
Although introducing a community to unfamiliar content takes time, persistency is always key. The more artists and other creatives push for the importance of their work to be recognized, the more those who are unfamiliar with the arts will come around to the idea of being immersed in a stimulating artistic community.
As a painter, I have encountered many people who have asked me, "Why would I buy a painting for that much? Isn't that a waste of money?" And it stung, for a while, but then I realized they simply just did not understand what art could do for them and the time artists invest in mastering their craft.
This misunderstanding is not limited to paintings. I am referring to all art: visual arts, the written word, performance arts, trade work, culinary art, and whatever else may fit into the realm of arts and culture.
So, what can art do for us?
From an artist's perspective, art can bond people together and create relationships that might not have normally prospered otherwise. Art is not strictly for artists—it is for mankind. One does not have to be a practicing artist to appreciate and understand the power of art.
Artists filter the world around them. To unpack that a bit, think of WWII propaganda: Rosie the Riveter and Uncle Sam. They filtered the world through recognizable iconographic American images.
Then think of the iconic Shepard Fairey—Make Art Not War, remember? Also, remember that Obama Hope poster? Obey? You can thank Fairey for making the 2010s so visually rich.
Aside from propaganda, consider Elvis' song "If I Can Dream," which was solely prompted by the assassinations of Dr. Martin Luther King. Jr. and Robert F. Kennedy, both in 1968.
Shakespeare filtered the world around him through his tragedy and history plays such as "Richard III," "Macbeth," and "King Lear."
Not to mention literature—have you heard of a "Gatsby Party"? We can thank F. Scott Fitzgerald for that. Have you ever said, "It was the best of times, it was the worst of times"? If so, thank Dickens for that beautifully constructed diction. What about "Stay gold, Ponyboy, stay gold" from S. E. Hinton's "The Outsiders"? All of these sayings have brought a number of people together in a number of ways.
Now think of movies: "Casablanca" is an American household staple that still stands as the ultimate Hollywood classic with a number of pop culture elements that have brought society together—"Here's looking at you, kid"; everyone knows the iconic scream scene in Hitchcock's "Psycho," and everyone knows not to stay in room 1 at Bates Motel; "Grease" brought multiple generations together through nostalgia, music, and dancing—"Tell me about it, stud"; Tom Cruise in "Risky Business" made sure we will always dance to "Old Time Rock and Roll" in a white button up shirt, boxers, and white socks; and "Talk to me, Goose" is a phrase that is used daily in our culture thanks to the 1986 "Top Gun"; and the 90s brought us the unforgettable "Goodfellas," "Pulp Fiction," and "The Silence of the Lambs," all American household staples, as well.
These movies, as well as the art, songs, and literature previously mentioned, not only filtered the world around them during the decade they were created, but they also have made a home in our culture and continuously bring us together.
Any sort of arts and culture enthusiasts are always able to bond over art, but the true magic happens when those enthusiasts are able to bond with sports experts, business gurus, medical field warriors, among others, and that spark stimulates conversations and creates relationships that bind communities together forever…all through art.
Maralisa Marra is a staff writer for the Shinnston News. She has a Bachelor of Arts in English Literature and a Bachelor of Arts in Studio Art from Fairmont State University. She graduated in April.