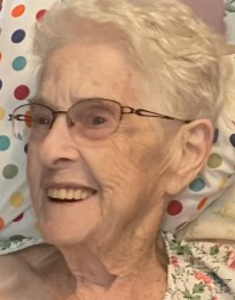 Mary Irene (Parson) Yost
Mary Irene Yost, 90, of Gypsy, passed away on Saturday, April 8, 2023 at her residence, surrounded by her family. She was born in Greene County, PA on March 21, 1933 to the late Thomas Leslie Parson and Della Mae (Riggle) Parson.
Mary was a housewife.  She loved cooking, canning, gardening and quilting.
She is survived by three daughters:  Linda Kay Molisee of Jacksonville, FL., Charlotte "Shike" Starsick and (Thomas) of Mannington and Connie White and (George) of Belington; two sons:  Glen H. Yost, Jr. and Harry "Bud" Yost and (Cindy) of Williamstown; six granddaughters:  Jennifer Beyl, Julie Molisee, Jaime Mauro, Stacey Yost, Mary Joyce Lowe and Laura Yost; three grandsons:  Glen Howard Yost III, John Bock, Jr. and Brandon Yost; two great granddaughters:  Taylor Molisse and Paige Marie Lowe; three great grandsons: Michael Joe Bock, James Beyl, Hunter Beyl; and several great great grandchildren;  one sister, Maxine Horr of PA; two brothers:  Glen Parson of PA and Dale Parson and (Pauline) of OH; special friends, Sam and Jeannie Minardi of Stonewood as well as many nieces and nephews.
In addition to her parents, Mary is preceded in death by her husband, Glen Howard Yost, Sr., whom she married November 12, 1949; one daughter, Della Mae Yost; one sister, Lucille Whipkey and two brothers:  Robert Parson and Kenneth "Pete" Parson.
A private viewing for family and close friends was held on Monday, April 10, 2023 at Dorsey Funeral Home, 701 S. Pike St., Shinnston, from 11:30am until 1:30pm. Graveside service followed at 2:00pm at Shinnston Memorial Cemetery with Chaplain Todd Syruws officiating.
Dorsey Funeral Home is honored to be handling the arrangements for the Yost family.