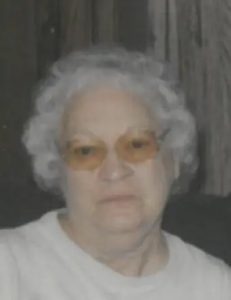 Opal Olive Dodrill
Opal Olive Dodrill, 94, of Spelter passed away on October 27, 2023. She was born in Buckhannon, February 27, 1929, a daughter of the late Minter Jackson and Anna Jane Carpenter Hinkle. She was preceded in death by her husband of 37 years, Gerald Owen Dodrill; her sons, Ronald and Lewis Dodrill; her brothers, Paul and Ira P. Hinkle; sisters, Beulah Pollack, Elinora Hinkle; nephews, Dwayne and Scott Hinkle; and a niece, Linda Matheny.
Surviving are her grandchildren: Jeremiah Dodrill, Nick Dodrill, Tiffany Sampson Dodrill, MaLissa Sampson Dodrill, Kyle Dodrill, Ashley Dodrill, Jennifer Dodrill; great-grandchildren: Marcus Rucker-Dodrill, Mariah Dodrill, Aleiyah Dodrill, Alex Dodrill, Lily Dodrill, Cadence Sampson, Colt Stahl, Camden Stahl, and several others.
Opal grew up on her family's farm in Buckhannon before moving to the small town of Spelter where she lived her remaining years. She was employed at the Hazel-Atlas Glass Company for many years and attended the Assembly of God Church.
She was a very strong woman who lived her life longer than most. She was a devoted wife, loving mother, and grandmother. She never smoked or drank in her life and always loved to brag about that fact. She enjoyed cooking, baking, and sitting on her swing watching her grandchildren play. She lived her life for her family and was always there to lend a helping hand and most of all, her love. She will be dearly missed and forever in our hearts.
The family will receive friends at the Perine Funeral Home, 1348 S. Pike St., Shinnston from 10am-12pm, Friday, November 3rd. A graveside service will be held at 1pm, Friday at the Hampton Cemetery in Buckhannon. Condolences may be extended to the family at www.perinefunerals.com. The Perine Funeral Home is honored to serve the Dodrill family.