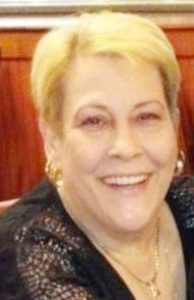 Patricia Ann Gifford
Patricia Ann Gifford, 73, of Wallace, passed away at her residence on Friday, October 20, 2023.  She was born on March 20, 1950 in New Martinsville to the late Franklin Clair Springer and Alice Anne (Gump) Springer.
Patricia retired from Fairmont General Hospital after 23 years as an LPN.  She was a member of the Rebeka Lodge of Wallace, was involved with the Brownie and Girl Scout Troop #4194 of Wallace, enjoyed cooking and having family gatherings. 
She is survived by her husband of over 54 years, James Edward Gifford of Wallace; two daughters:  Beth Vanderhoff and husband Joe of Joetown and Kelly Jackson and husband Wayne of Clarksburg; two granddaughters:  Amber Kittle and Ashlea Wegman; two grandsons:  Aden and Nicholas Jackson; one step grandson, Robert Jackson; three sisters:  Jean Driver of Virginia, Sandy Szalankiewicz and husband Larry of Pennsylvania and Diana Sprout of Clarksburg as well as several nieces and nephews. 
In addition to her parents, Patricia is preceded in death by one brother, Ellis "Bus" Springer and Virginia "Jenny" Kuhens. 
Family and friends will be received at Dorsey Funeral Home, 701 S. Pike St., Shinnston, on Wednesday, October 25, 2023 from 11:00am until 1:00pm, time of service, with Jerry Lee Kuhens officiating.  Interment at Shinnston Memorial Cemetery.