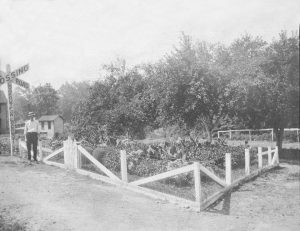 By Bobby Bice
One of my favorite pastimes is collecting old photography.  I took the interest as a teenager and my collection has grown significantly as an adult.  I also enjoy learning history, so when I can apply my images to a story, then it helps me to remember better.  I began submitting images to the News & Journal several years ago and have recently decided to try my hand at a monthly article, each one discussing a favorite photo from my collection.  
For my first submission, I decided to select a photograph that gives a bit of history on my family's business, Bice's Greenhouse.  I grew up working in "hothouses" so it makes sense to use that as a starting point in my article.  The Founder of the business was my Great Grandfather, Walter Orville Bice, and the accompanying image shows him standing beside of a flower bed he created near the coal company store building at Viropa's former mining community.  Viropa, located north of Shinnston, between Big Elm and Enterprise, is one of at least two communities in West Virginia whose name was derived from three states (Virginia-Ohio-Pennsylvania); the other being Kenova (Kentucky-Ohio-Virginia).  
A photographer for the Consolidation Coal Company took the image and then used it to represent Viropa in a series of over 150 hand-colored postcards they produced circa 1917, which depicted each of the coal mining communities that the company operated.  I have many of the postcards from the series that depict 
the local coal camps; the Viropa image was No. 20 in the series.  The reverse side of each postcard gives a little caption that would complement the image with most mentioning flower beds, vegetable gardens, new sidewalks, clean water wells, and white picket fences surrounding homes—all words that would entice men to come work for the company.  For those who couldn't read the captions (or the local immigrants who couldn't read English), the bright colors selected for the images were a "backup plan" to further entice them.
The caption on the postcard showing my Great Grandfather reads, "Viropa, W.Va.—A cinder pile converted into a beautiful flower bed by Mr. W.O. Bice, Store Manager here."  He started his coal industry career by working as a company store clerk for the Briar Hill Coal & Coke Company.  This company was one of many to form the Fairmont Coal Company, which later became part of Consolidation Coal Company.  He worked at the Company Store at Enterprise and later became the Manager for the Viropa Store.  
His duties as Store Manager at Viropa included getting the coal burning for heat in the school house each morning, being Postmaster for the community, making sure the outside grounds and window displays at the store were all appealing, being meat cutter at the store, keeping track of sales while making sure miners and their wives didn't charge up more than their wages and scrip money could pay, and he was also responsible for keeping the store fully stocked and ordering specialty items, which included seeds from the catalog for miners to plant.  
As many miners had difficulty getting their seeds to germinate, Walter decided he could order an abundance of seed, build cold frames adjacent to his house in Enterprise and germinate the seeds himself, then sell the plants to miners.  He started this practice prior to 1910.  He gained popularity not only among the miners at Viropa, but throughout the Coal Company's other mines as well.  
As the years passed and his side business continued to "grow", he decided to build a greenhouse on his property, where he could grow both vegetable and flower plants.  This first greenhouse was a small structure, 60 ft x 10 ft, only about five feet tall, and was erected in 1925.  My Dad has the ledger that he kept during this period which shows every nail purchased, every penny spent, and also records the first year's sales within this new establishment of Bice's Greenhouse.  With this new establishment came cut flower arrangements to sell as well.  In fact, during the 1920's and 1930's, my great grandmother, Dona (Tetrick) Bice, gathered cuttings from flowers in the greenhouse and took them into the homeplace where she made arrangements on the oak dining room 
table, a table my parents still use in the homeplace today.  She also cared for the plants while Walter continued to manage the Viropa Store until 1928 at which time he decided to retire from the coal company and devote full time to the floral industry.  Later, when the larger greenhouses were built and a proper 'work bench' was constructed, the flower arrangements began being created in Greenhouse #2.
By the 1940's, four greenhouses had been built.  When my Grandpa Bob Bice came home from serving in WWII, he focused his attention on joining his father in the greenhouse business.  He also was the one to initiate interest in expanding the business to include a building dedicated to creating and selling the floral arrangements.  
My Grandpa Bob was the only one to receive formal education in floral designing when he graduated from the Philadelphia Design School in Pennsylvania.  In fact, he graduated from school, married my grandmother (the former Betty Nay), and the flower shop building were all completed within one year time.  When my grandma joined the family, she immediately learned the floral design trade while my grandpa and great grandpa (Bob and Walter "W.O.", respectively) worked alongside one another until 1954, at which time W.O. decided to retire.  It was then that my grandparents, Bob and Betty, assumed ownership of the business.  
During the 1960's, they expanded the operation to include a total of 7 greenhouses.  The wholesale end of the business expanded as well by supplying many flower & vegetable plants to many of the local G.C. Murphy and Consolidation Coal Company Stores as well as to feed stores and other smaller greenhouse establishments.  My dad, Bob II, concentrated his early career by working alongside my grandfather and further developed his skill within the field.  
In 1977, he married my mother, the former Beth Andrick who soon joined the business and excelled in her skills of floral design.  My Dad added another greenhouse onto the establishment, totaling 8 houses with over 30,000 feet under operation.  My grandpa Bob died unexpectedly in 1983 and less than two years later, my parents assumed ownership of the operation.  
Through my Dad's vision and hard work, a modern sales house was built in 2002, which continues to be the main selling house, along with two additional growing houses on site.  The cut-flower side of the business ceased operation in 2015, allowing full focus to be on our "roots" with the greenhouses.  Many business establishments that sell plants act as the middle man by getting the product shipped in from other states, or even other countries!  Bice's Greenhouse grows about 80% of what is sold right on site in Enterprise. 
Enterprise was once referred to as 'The Greenhouse Valley'. 
In addition to Bice's, the Tetrick and Rockwell Families also had greenhouse establishments in Enterprise.  A short distance south at Viropa, the Sturm Family had an establishment as well.  Later, Tetrick's relocated to Midway, near the community of Big Elm.  Bice's has remained through the years and is no doubt the longest running greenhouse establishment in north-central West Virginia.  
This photograph from my collection seemed like the perfect inaugural image for a monthly column because it not only depicts a man whose talents were respected enough to warrant a posed photo which his employer used for advertising, but it also defines the deep interest my Great Grandfather had in horticulture, which evolved into a business establishment that's still in operation more than 100 years after this photograph was taken.  And that is the story behind the photo!