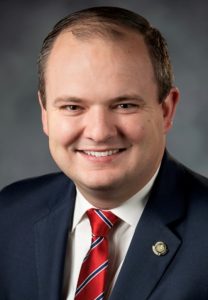 CHARLESTON, WV — West Virginia's Ben Queen, a state senator from Harrison County, has earned national recognition, according to a news release shared by the West Virginia Press Association.
He is one of 28 legislators from across the nation selected to GOPAC's 2023 Class of Emerging Leaders. GOPAC is a Republican state and local political training organization.
Nominated by the legislative leadership in their state, these legislators have demonstrated promise in positively impacting their state and rising within the Republican ranks.
"Our 2023 class of Emerging Leaders is the next installment in our mission to build a roster of state Republicans who are focused on ideas to advance Americans' personal and economic security," said GOPAC Chairman David Avella. "Whether it is leading in their state legislative chamber or running for higher office in the future, we welcome being part of their development and success."
The prestigious GOPAC Emerging Leaders Program is a year-long initiative to educate the next generation of Republican legislators. The Program equips these legislators with information to help them legislate more effectively and ultimately achieve leadership.
Among the leaders are the following State Senators:
Senator Donnie Chesteen (AL)
Senator Ben Gilmore (AR)
Senator Janae Shamp (AZ)
Senator Jim Bovd (FL)
Senator Brandon Beach (GA)
Senator Mike Bousselot (IA)
Senator Kyle Walker (IN)
Senator Amanda Mays Bledsoe (KY)
Senator Jordan Rasmusson (MN)
Senator Michael Lazarra (NC)
Senator Dean Murray (NY)
Senator Kristen Thompson (OK)
Senator Todd Pillion (VA)
Senator Nikki Torres (WA)
Senator Ben Queen (WV)
See all honorees here at www.gopac.org/emerging-leaders/