Vance 1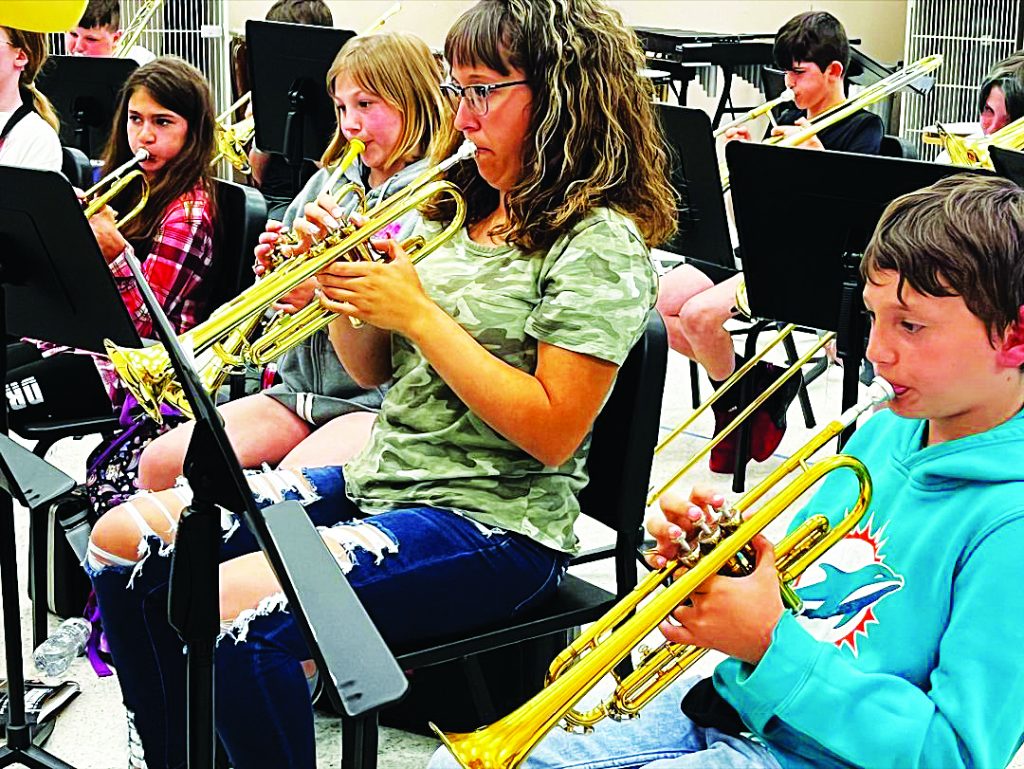 By Lynn Williams Vance
When Raelyn Vance, a 2022 graduate of Lincoln High School, decided to join Girl Scouts in the second grade, she had no idea what possibilities would lie ahead of her. She thought joining the organization would allow her to do fun things with her friends, and most importantly, sell cookies. 
Not only did it give her those opportunities, having sold nearly 12,000 boxes of cookies during her scouting career, but it also allowed her to complete many activities that would help her community. Most recently, Vance completed her Girl Scout Gold Award, the highest achievement within the Girl Scouts of the USA, earned by Senior and Ambassador Girl Scouts. Only 5.4% of eligible Girl Scouts successfully earn the Gold Award. 
Fulfilling the requirements for the Gold Award starts with completing two Senior or Ambassador Journeys or having earned the Silver Award and completing one Senior or Ambassador Journey. After having fulfilled the Journey requirement, 80 hours is the suggested minimum amount of time for completing the steps: identifying an issue, investigating it thoroughly, getting help and building a team, creating a plan, presenting your plan, gathering feedback, taking action, and educating and inspiring others.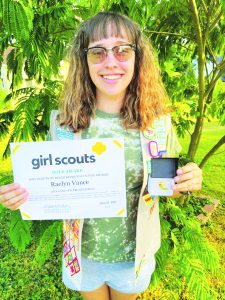 For her Gold Award, titled "Music for the Youth," Vance, an LHS band student at the time, came up with an idea for her project that would not only help the high school band, but her former middle school band as well. To address the issue of forgotten items often left behind when students go away to band camp, Vance came up with the idea to donate a portable toolbox to the organization and fill it with donated hygiene items and other necessities that students often forget to pack, or use an abundance of, when they are away at a week-long band camp. 
"After my freshman year at band camp, I noticed that many kids forgot things or ran out of personal items and the assistant director would have to run to the store to purchase these items," said Vance. "I figured if they had some type of portable filled with donated items, then they could take them to camp each year." 
The portable was first used in the summer of 2019 at band camp prior to the COVID-19 shutdown. Although it has not been utilized at camp since this time, Vance said it has been used in the band room when a student needed a personal hygiene product. It was a second use for students she had not originally intended. 
LHS students will return to band camp at the end of July where the portable will once again be utilized.
The second portion of the project was to address the issue of fifth-grade band students who often move on to middle school band without a program to get them acclimated. 
"I came up with the idea to hold a band camp-like event that would introduce fifth grade band students entering the middle school band program to their director, their peers and new music," said Vance. "The director and myself came up with the idea to hold a 'step-up' clinic three days after school prior to the middle school end-of-the-year band concert."
Students from both feeder schools—Big Elm Elementary and Lumberport Elementary—were in attendance for the step-up clinic, a term the band director felt necessary to encourage students to attend. Vance said Lincoln Middle School band director John Kimble didn't want students to feel pressured that the camp was a requirement for middle school band. 
"It seemed to work," said Vance. "We had 29 students from the elementary schools attend." 
Kimble also thought the first-ever clinic was a success and hopes he can continue the project Vance started, which is a Gold Award requirement. 
"It was an astounding success," said Kimble "We had a great amount of student participation and I found that each day we were getting more and more kids. That's how you know it is going well. The kids had a great time playing their instruments and I had a great time introducing them to middle school." For each day of the clinic, Kimble set up stations where the students participated in various musical activities. "I think the biggest positive is that the kids had fun making music," he said. "In the long term, I think this will lead to kids going back and telling their friends how much fun band is, which will hopefully lead to more and more wanting to be a part of what we are doing here at LMS." 
Kim Smith, Big Elm Elementary band director, also participated in the clinic. She said the clinic is a great system to have in place to solidify students' switch to middle school. 
"This is a great way for fifth graders to test the waters of middle school band before they get to middle school," Smith said. "This is also a great recruitment opportunity for the middle school and will help bridge the gap between fifth and sixth grade." 
Big Elm fifth-grade saxophonist Isabella Partain wasn't sure she wanted to play in the band when she entered middle school, but said the clinic helped her to make the decision to play. 
"The step-up clinic has definitely helped me as well as meeting Mr. Kimble, getting to play new music, and meeting others in the band," said Partain. "Doing the step-up clinic makes me feel prepared for middle school band." 
Lumberport fifth-grade percussionist Kadyn Gump said after attending the clinic, he is excited for middle school band. 
"I thought attending this event would be fun and I'd get to play more. I'm excited about middle school band now," he said. 
LHS Senior Percussionist Braden Hamrick volunteered to help with the clinic. 
"I was glad to help because I love teaching the kids music and how to play an instrument,' said Hamrick. "I'm also a Boy Scout working on my Eagle Scout project and thought it would be great to help Raelyn with her scout project." 
Vance also earned her Girl Scout Silver Award in the eighth grade. Her 50-hour project included making bears out of microfiber cloths for WVU Children's Hospital in Morgantown