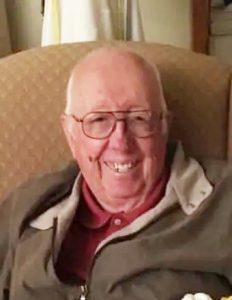 Ralph Nelson Anderson
Ralph Nelson Anderson passed away unexpectedly in his home on October 28, 2023 at the age of 92. Ralph was born on September 28, 1931 in Fairmont, West Virginia. He is the son of Albert (Pete) and Nell (Glover) Anderson.
Ralph married Norma (Curry) Anderson on February 20, 1952 and they enjoyed 63 years of marriage before Norma's passing in 2015. He is survived by daughter Krista Yopp and husband Rick of Parkersburg, WV, granddaughter Sarah Miner and husband Scott, great- grandchildren Jude and Genevieve of Pittsburgh, PA., daughter Cindy Scott and husband Randy of Shinnston, WV., granddaughter Amy Woods and husband Brian, great-granddaughters
Hayley, Hannah, and Hope of Good Hope, WV., grandson Ben Scott and wife Melissa, and great-granddaughters Olivia and Anaston of Shinnston, WV. He is preceded in death by his wife Norma, his son Bryan, his brothers A.J. and Benjamin, and his sisters Charlotte and Dorthea.
Ralph graduated from Shinnston High School in 1949 before pursuing a business degree at Fairmont State College. Additionally, he served in the Army during the Korean War. Although he thought of himself as a farmer, Ralph was the Owner/Operator of Anderson Chevrolet Garage Company and Anderson Hereford Farm. Ralph was a member of the First Baptist Church, the West Virginia Farm Bureau and the West Virginia Polled Hereford Association.
Friends will be received at Harmer Funeral Home on Tuesday, October 31, 2023 from 10:00AM-2:00PM, with a funeral at 2:00PM with Pastor Kevin Nuzum officiating. Inurnment will be held at a later date at Harmony Grove Cemetery in Taylor County.