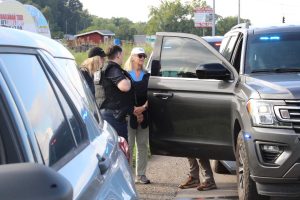 WASHINGTON, D.C. – Yesterday, Congresswoman Carol Miller (R-WV) joined the U.S. Immigration and Customs Enforcement (ICE) on a targeted enforcement action operation ride-along in Cabell County. Congresswoman Miller accompanied officers in an observational capacity as law enforcement officers conducted the operation.

"The fight for the United States is not overseas or at the border, but it's right here in our communities. When Speaker McCarthy appointed me to serve on the task force to combat Mexican drug cartels, it was important to see firsthand what was happening at the front lines. Witnessing ICE and law enforcement lay their lives on the line to protect Americans every day was a humbling experience I won't soon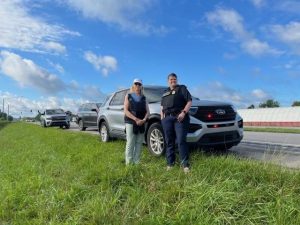 forget. I will continue fighting to stop the flow of drugs and human trafficking that comes across the southern border every single day," said Congresswoman Miller.
Since her first term in Congress, Congresswoman Miller has been fighting to secure the border to prevent drugs and crime from affecting communities in the United States. She currently serves on Speaker Kevin McCarthy's (R-CA) Congressional task force targeted on combating Mexican drug cartels.
Congresswoman Miller joined the Field Office Director Cammilla Wamsley for a pre-operational briefing and rode along with law enforcement where the operation took place.
Background:
Last year, Congresswoman Carol Miller visited the U.S. – Mexico border and experienced the southern border crisis. This ride along has been the second time the Congresswoman saw first-hand the devastating impact President Biden's open border is having on Americans.
Congresswoman Carol Miller also joined the Conservative Political Action Coalition (CPAC) for an anti-human trafficking summit. She continues to fight for the victims of human trafficking due to an open southern border.