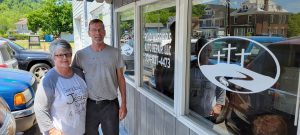 By Stephen Smoot
It all started with a vision.
Paul and Tina Owens started their auto shop only three months ago, but had a grander ideal than many of the thousands who open new businesses every year. 
Like every business, they work hard to grow their customer base, earn profits, and enjoy success. They also bring their devotion to the Word of Jesus Christ to work every day to share with their clientele.
Tina explained "We don't just work on cars. We tell people about Jesus . . . Our emblem just says it all with the crosses." She added that "we've prayed with several customers." 
Paul followed up, saying that "God has truly blessed us" and "it's a privilege and honor to serve."
Part of that blessing has been a rush of business that included "a lot of good feedback." As Paul explains, "I didn't intend to hire, but I had to hire my son in law full time on April 3." That son in law brought both experience and certifications to the growing shop.
Tina explained that before they started the business, she worked in a flower shop. Once a customer overhearing her plans interjected "you've got to be crazy to open a business in this economy." Now people marvel that the "lot is always full." Paul shared that "I give all glory to God" for the success they have enjoyed thus far.
"I was born and raised in Clarksburg," Paul said, then added that "I've been here for 30 years." He started working on cars at the age of 14 "and it advanced from that." Paul joined Goff's Service Station in 1979 and worked there for nine years. He then said "I actually had a shop in Lumberport for a year and a half," until the property owner sold out.
After that, Paul "went in the coal mines for 13 years. I thought I was done (with being an auto mechanic) but I was led right back to it."
Road Warriors works with tires, brakes, state inspections, front end repairs, light engine work and more. "We can pretty much handle anything," Paul said. He expects to expand services in the future to include alignments.
As always, however, Paul's thoughts returned to his mission in establishing Road Warriors. He described plans to work with a fellow congregant to offer free food at the shop.
Working hand in hand with Road Warriors is their next door neighbor and business's lease holder, Warriors Chapel. The convergence of purpose between the two can be found in the Gospel 
According to Matthew 28:20, which reads "Teaching them to observe all things whatsoever I have commanded you: and lo, I am with you always, even unto the end of the world." The Warriors Chapel cites this verse as a Biblical mandate, saying that  "the command to give the Gospel to the world is clear and unmistakable and this Commission was given to the churches."
Whether one's car breaks down on the road, or one's soul has "started rollin' down that lost highway," Road Warriors Auto has the eagerness, willingness, and ability to help.