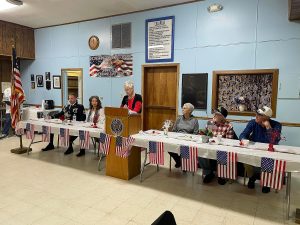 By Erin Beck
While this year's Veterans Day parade was smaller than some years due to rainfall, organizers were pleased with their effort to honor veterans.
"We had a great turnout, considering the rain," said Dave Minor, president of the Lions Club, which planned the parade on Pike Street Friday morning. He said the event was too important to cancel.
There were fewer floats due to rain, and the parade marshals, Chad J. Wilson, Herbert R. Buckhannon and Robert Crites, used sports cars instead of convertibles. But Minor said the participation of the NJROTC and Lincoln High School band brought out their supporters.
"I'm proud of those people," he said. "They helped make our parade a success."
He said the luncheon and ceremony at the American Legion afterward, held in conjunction with the American Legion Auxiliary, also helped make the event an overall success, drawing an indoor crowd.
"The veterans love that," he said. "A lot of the veterans come out to eat and watch the program, so it all turned out really great for the kind of weather that we had."
The Lions Club had also lined the street with American flags for the event.