By Maralisa Marra
This year, Maria Cusack and Brendan Gallagher said they were determined to revamp Frontier Days for the better.
Rather than having the festival in downtown, the duo from Black & Teal Concepts, working under contract for the city, decided to use the underutilized Ferguson Memorial Park as the new Frontier Days destination.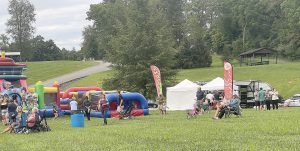 Some residents had complaints about the lack of carnival rides. In a previous City Council meeting, Gallagher said he reported to Council that the carnival ride companies would not come to Frontier Days for financial reasons; there is not a gated area to ensure people pay to ride the rides. Instead, they decided to capitalize on the amphitheater and bring in a variety of music acts.
On Thursday, Zona Hester took the stage, as well as Double Vision Band. On Friday, the Chris Weaver Band and DJ Sean Nice & Byron "Six Six" Cooper filled the air with their tunes. Saturday's hefty lineup consisted of Olivia Spino, Austin Glaspell, Andy Benson, Glen Shelton, Last Year's Model, Phil Joel of the Newsboys, and Michael Glabicki of Rusted Root with Dirk Miller.
After two years without the annual event due to the ongoing pandemic, citizens returned to the event to listen to some smooth melodies, grab a funnel cake, and shop from local vendors. Local staples like Soul Miner's Daughter, Mountaineer Bees, and Golden Rose Creations set up to share their products over the three days.
Plenty of bouncy houses were also available for the kiddos after a day in the pool, and the shaved ice was a great way to cool down after hours of bouncing.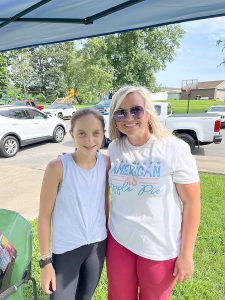 On Saturday, Ashley Dytzel hosted a pie baking competition. Out of the six competitors, Rayleigh Cochran's coconut cream pie took the lead after being judged by City Clerk Kathleen Panek, Chief of Police Jon Harbert, and Sonia McGrady.
Harbert, among other Shinnston police officers, were always present during the festival, and they brought their K9s Jess, Bear, and the new K9 pup in training Briar to get a few sniffs of the funnel cakes and meet some new friends. The pups were friendly and ready to greet their community with wagging tails and wiggling noses.
Overall, this year's rendition of Frontier Days was a success.