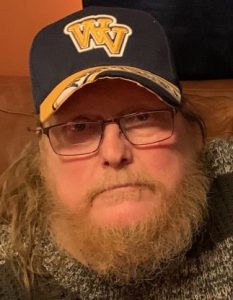 Ricky L. Waggy
Ricky L. Waggy, 63, of Lumberport, passed away on Tuesday, June 20, 2023 at his residence in Lumberport, WV surrounded by his loving family.  He was born on August 9, 1959 in Weston, WV to the late Robert "Bob" Lloyd and Dolly Ann (Self) Waggy.
Ricky was a hard worker and was employed by Sutter Roofing from 1978-1984.  He was also a mechanic at Harrison Power station and he was also on the Fire Team from 1984-2002.    
Ricky was a very kind, caring, and loving man.  He was an amazing husband, father, son, brother, uncle, and cousin. 
Ricky married the love of his life Cathy (Reed) Waggy on March 2, 1985.  They enjoyed 38 wonderful years of marriage and made a beautiful life and family together. 
Ricky enjoyed life and loved spending time with his family especially his grandchildren, as well as; NASCAR, WVU football, hunting, fishing, trapping, and generally anything outdoors.       
Left to cherish memories of Ricky are his wife Cathy, his son Robby Waggy and wife Maddie, Loraine OH, one daughter; Caitlin Waggy and fiancé Frank Wright, Shinnston, one brother; Mike Waggy, Lumberport, three sisters; Debbie Facemyer and husband Charlie, Lumberport, Linda Wable and husband Mike, Shinnston, Becky Waggy, Lumberport, two granddaughters; Freya and Veira Waggy, several nieces, nephews, great nieces, great nephews, cousins, two uncles; Danny Self and wife Wanda, Dusk Camp, and Jim "Butch" Reed and wife Koleta, Fort Worth TX, two aunts; Virginia Self, Dusk Camp, and Kathleen Thompson, Lumberport.     
In addition to his parents Ricky was preceded in death by his sister Carolyn Waggy and several aunts and uncles.  
The family will receive friends at Dorsey Funeral Home at 701 S. Pike St., Shinnston, WV on Friday June 23, 2023 from 4:00-8:00PM.  The funeral service will be on Saturday June 24, 2023 at 10:00AM with Pastor Thomas Bell officiating.  Interment will follow at Self Family Cemetery, Gilmer county.  Dorsey Funeral Home and Crematory will be handling the services and are honored to serve the Waggy family. Online condolences may be sent to the family at www.DorseyFuneralHomeWV.com.