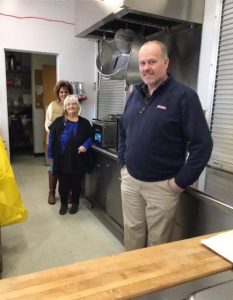 By Rosalyn Queen
With the assistance of Audra O'Dell, Director Elinda Carson wrote a grant to EQT and received $10,000 to update the kitchen located in the Uptown Event Center.  Ms. Carson went on to say "The Progressive Women's Association will use the funds to expand the food storage capacity of the facility's current food pantry to be able to provide greater access to food to larger numbers of people in the community. The funds will also be used to expand the use of the commercial kitchen that is located at the facility. The expansion of the commercial kitchen will allow the Progressive Women's Association the ability to preserve perishable foods and thereby extend the shelf life of the food received which will reduce waste and cost and provide more food to the community. 
She said the kitchen could also help new businesses.
"Anyone will be able to utilize the kitchen to start or expand a value-added business and/or catering company, for example. The kitchen space can also be utilized for classes and/or personal food preservation. "
With the funding, a flash freezer, a dehydrator, a commercial processor, a vegetable slicer, a chamber vacuum packaging machine, bottle filler, fruit and vegetable corer, a six-shelf convection oven, a cold table and kitchen cabinet storage space were purchased and installed.
After inspection, Steve Hinerman, Harrison County Health Department environmental supervisor and assistant administrator, said that the facility was a fully functional commercial kitchen.  The PWA wishes to offer the facility to individuals who are in the process of opening up a food service business to the community.  It will be the ideal place for an entrepreneur.
Now that the Health Department inspection is complete, the facility is ready to be used by the community. To find out more about this fully functional commercial kitchen or to visit it or make plans to use it, call Ms. Carson at 304-624-6881. Individuals using the kitchen should obtain health permits from the Health Department.
The PWA wishes to thank Audra O'Dell for her assistance in obtaining this grant and her continued support in obtaining the proper equipment and its installation.
Although the facility is being promoted as a commercial kitchen, it will still be used by the community for family gatherings and fundraisers.  The PWA encourages the community to use the Uptown Event Center for its next event. This building belongs to the community and is maintained for their use.  Call to arrange for your spring family reunions, graduation party, shower or wedding.
Stay safe, stay healthy and until next week "Now You Have Heard It Through The Grapevine."