By Erin Beck
When Connie Roberts, of Mountaineer Food Bank, told the Harrison County Senior Citizens Center's Barbara Oldaker that Roberts planned to stop by late last month, Oldaker figured it was about paperwork. 
As the food programs manager, Oldaker spends much of her time on paperwork to be turned in to groups like Mountaineer Food Bank.
But instead, Oldaker was surprised and honored when she realized Roberts was there to recognize her senior nutrition program as the first recipient of a new award for impressive efforts in food distribution.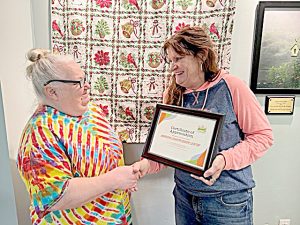 Roberts arrived with a plaque and flowers to offer Oldaker the award for, among other efforts, regularly distributing the most food boxes, 355, per month. 
Connie Roberts, who works in agency relations as the food bank's senior hunger coordinator, runs the commodity supplemental food program, also known as the senior box program. Roberts said her organization provides 5,000 food boxes to senior centers, apartment complexes and food pantries across the state. The boxes are meant to serve as extra nutrition supplementing regular meals helping seniors stretch their income
"She just does a very good job," Roberts said. "Her paperwork is just immaculate, and she gets her reports in on time. She calls us if she has a question. And getting that many boxes out per month is really a big job. And she does it very well. And she's just been a real asset in that community."
Oldaker said she had started the program because of the need. She works full-time at the center, but much of the nutrition program work is done on a volunteer basis, including evening and Saturday work.
"There are seniors out there that make $400 and some dollars, sometimes less than that a month," she said. "They fall through the cracks with the government. They pay their utility bills or if they live in a high rise, they pay the rent and utility bills and then they have nothing left. They have to decide which is more important, medicine, eating or paying the utility bill and I don't think anybody should have to choose."
Roberts came up with the idea to recognize distributors "either because of the quantity of boxes that they distribute, or how well they do their paperwork, (or) how well they handle the public and Barb just fit all of those categories."
She expects it to be an annual honor. But Roberts, who started her job in July, was so impressed by Harrison County's operations that she wanted to honor Oldaker first.
Oldaker acknowledged that she does try to be meticulous, and that her work involves long hours, including time spent looking for deals and interviewing volunteers. They deliver to high-rises, while some seniors pick their food up at the center.
But she also credited a group of five to eight volunteers.
"They have to have the compassion and the heart to do this kind of work," she said. "Because you don't get paid for it. And I have one heck of a good crew."
The food box program is for those over 60 who meet income limits. The U.S. Department of Agriculture distributes both food and administrative funds to participating states and tribal organizations to operate the program. The boxes also include recipes and nutritional information.
Oldaker also runs several other senior center food programs, including a food pantry, a five-meal-pack feeding program state officials started because of the COVID-19 pandemic, and bags of food for the homeless. They also partner with area businesses that donate fresh produce and sometimes other food.
In addition, Antero Resources recently provided the senior center with a $2,000 check for the food pantry.
"$2,000 does go quite a bit," Oldaker said. "You wouldn't think it does. But it does. You just have to manage your money. It's like when you go shopping for yourself at home. You've got to be wise with your money and get what you can."
When asked why Harrison County does such a good job at distribution, Oldaker didn't point to her own skills but instead to the demand, even though Harrison County has a smaller population than several other counties in the state.
"There's a need out in the community," she said, simply. "It's not just Clarksburg; it's everywhere."