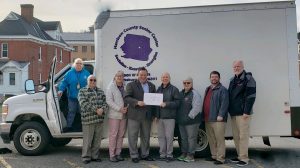 By Erin Beck
Editor
When Harrison County Senior Citizens Center began its grocery redistribution program, Beth Fitzgerald, executive director, expected the program to be short-term. But since the pandemic and the need has persisted, the center recently made a large investment in keeping the program sustainable.
Fitzgerald said the center hopes to serve more Harrison County residents with its new 12-foot Ford box truck.
Mountaineer Food Bank had asked the senior center to help with food redistribution due to an increase in need during the ongoing pandemic. 
"When it became obvious that we were going to continue this program, the box truck became imperative," she said. 
Volunteers pick up food that would have been thrown away – cartons of eggs with one cracked, for example — from Kroger and Sam's and then distribute it to people in need. 
"There may be one bad strawberry in the whole thing, and they throw that away," she said. "It's frightening to see how much food we throw away as a nation really, to think there's so many starving people out there."
She noted that many in the area face barriers to food shopping. Many lack transportation and she noted that Kroger had closed downtown, creating a "food desert."
The center secured $25,000 from the Legislature with help from Senator Mike Romano, D-Harrison, and Your Community Foundation gave $5,000. The senior center supplied the rest of the funding for the about $50,000 truck. Federal COVID-19 relief funding helped, she said. 
Low-income housing centers, senior complexes and churches are among the areas where they redistribute. They redistribute more than 30,000 pounds of food per month.
Volunteers were using a passenger van, putting boxes on seats and floorboards. Fitzgerald said volunteers will save hours of loading/unloading time. She noted that many volunteers are older, and the work is strenuous.
The center will also use the truck to pick up gently used medical equipment.  Seniors without insurance to cover medical equipment needs often call the senior center to see if they have equipment to loan to them free of charge. Currently, the center needs gently used wheelchairs. If you have medical equipment in good condition you would like to donate, please call 304-623-6795.