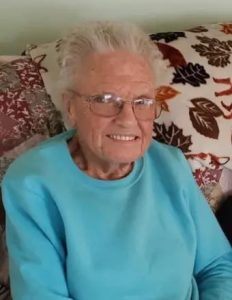 Shelba Jean Lanham
Shelba Jean Lanham, 86, of Shinnston, passed away on November 9, 2023, at Fairmont Healthcare. She was born in Shinnston on December 4, 1936, a daughter to the late Hoy Starkey and Lucy Lindsey. Along with her parents, she was preceded in death by her husband Robert Darrel Lanham whom she married October 6, 1956. Also deceased is her sister, Rene (Paul)Curry and her brother-in-law, Dave Cunningham.
She is survived by her children, sons Bruce (Sue) Lanham of Shinnston, Darrel (Diane) Lanham of Buckhannon; daughter Tammy (Gene) Katzman of Lexington, SC, and her sister Karen Cunningham, formerly of Lumberport; eleven grandchildren, and twenty great-grandchildren.
Shelba was a homemaker and loved to read and walk.  She was a member of the Church of All Nations, Hughes.
Friends will be received at the Harmer Funeral Home, 300 Pike St., Shinnston from 4 to 8 pm Monday with a funeral service at 11:00 am Tuesday, Nov. 14, 2023 with Pastor Mathew Keith officiating. Interment will follow at the Shinnston Memorial Cemetery. On line condolences may be made at harmerfuneralhome.com.