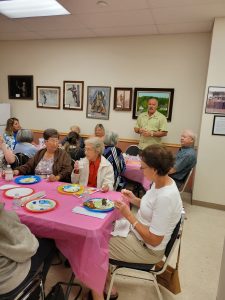 By Debra Herndon
The Shinnston Garden Club celebrated 94 years of service to the Shinnston community with a "birthday party" meeting on August 24 th at the Bice-Ferguson Museum. President Dorothy Rota presided and led the pledge and Vice-President Wanda Ashcraft gave devotions. Chad Edwards, as Noble Grand of Rebekah Lodge #47 presented a certificate recognizing the Shinnston Garden Club as Citizens of the Year. A luncheon of fried chicken, baked beans, corn casserole and several salads was topped off by birthday cake and ice cream.
Special guest, Harrison County Assessor Rocky Romano spoke on House Bill 125 and the new laws affecting people who pay personal property tax and disabled veterans. Romano also described some factors of the assessment process and fielded questions from the group.
Secretary Letha Stutler read the minutes from the previous meeting and they were approved. Mayor Rodney Strait then updated the Club on many successful City projects and shared some future goals.
The members then viewed the Museum's Art Exhibit and voted for best in show.
Those present not previously mentioned were: Shirley Bowen, Donna Post, Enith Wright, Deloris Minor, Beth Linn, Sharon Myers, Virginia Livingston, Linda Comer, Deborah Starkey, Susan Thomas, Mary Ann Ferris, Juanita Pumphrey, Pam Pumphrey, Debra Herndon, Debbie Harbert, Tori Drainer and Kathleen Panek.