By Maralisa Marra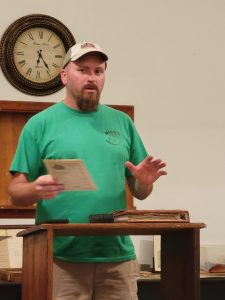 New Bice-Ferguson Memorial Museum Board member Bobby Bice has a positive outlook for his new position and said he plans to serve his community while making the preservation of the town's history his utmost priority. Bice is also the president of the Shinnston Historical Association.
"The founders of the museum were my family, and I've been a life member of the museum since shortly after its inception," Bice said. "My family's original intent for the museum was that the Shinnston Historical Association and the City operate the museum jointly, but that didn't happen. I think it's appropriate that I, being not only a family member, but also a member and current president of the historical association, serve on the museum board." 
The museum board had recommended Maxine Weser's reappointment, according to city officials' meeting notes. On July 11, Councilmember Patrick Kovalck had motioned to appoint James Coulter instead, based on Coulter's interest in the position. Councilmember Maryann Ferris has spoken in support of Weser. 
During last week's City Council meeting July 25, Council filled the vacant seat after Coulter resigned after being appointed. Council made a motion to appoint Bice to the museum board. The motion carried with no opposition. 
Bice said he is interested in history, and he is well versed in Shinnston history, as well as the surrounding areas' histories. 
"My parents started us out young going to museums and learning history," Bice reflected.
Bice said he believes he is a good fit for the museum board since he is a relative to the founders of the museum and because of his interest in history.  
"I'm not a stranger to the museum," Bice said. "I was one of the volunteers who staffed it during its first year of operation in 2006. It was soon decided to pay someone to not only staff it, but to act as a curator for organizing displays. Maxine Weser was the first paid person, succeeded by Braden Noon and then Steve Glass and T.J. Book." 
Bice said, "As a newly elected Board member, I'd like to thank each of them for the work they put into the museum's operation over the years, and current Director Debra Herndon has done an absolutely excellent job in hosting programs, organizing displays, and attracting visitors into the museum. She has even worked closely with the historical association for a few joint programs, which has helped build relationships."
Bice also said, "Credit goes to everybody for everything that's accomplished." 
Bice discussed his aspirations for serving on the museum board.
"To serve on this board, I feel like each member should have an interest in educating people on local history as well as be dedicated to preserving items for their historical value." 
"I'm sure I'll work well in joining the other members of the board. I've always respected Mrs. Ferris for the passion she puts into everything she does. Woody Maley and I have been friends for many years," Bice said in reference to current board members. "Clark Riley, Eddie Boggess, and I all grew up together."
"I think we each bring something different to the table, and we've all got a solid foundation of our own histories to build on," Bice concluded.