By Erin Beck
The City of Shinnston is nearing a settlement with NAJ, LLC, following a lawsuit filed against the Charleston-based company, said Trey Simmerman, attorney for the city.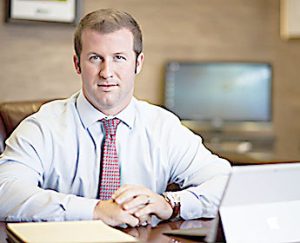 Last week, Simmerman said the potential settlement was "circulating."
Harrison County Circuit Judge Thomas Bedell dismissed the case on Sept. 30, writing in an agreed order of dismissal that parties had announced to the court that the "matters and differences between and among them related to this matter had been settled, compromised and resolved." The case was dismissed with prejudice, meaning permanently. 
In the lawsuit, filed in Harrison County circuit court on March 14, the city, represented by Simmerman, alleged that NAJ, which owns the abandoned home severely damaged by fire at 101 Charles St., had created a public nuisance in violation of city and state code.
The lawsuit refers to NAJ, LLC as a "shell entity utilized by its owners to purchase real estate properties at tax sales throughout West Virginia, including in the City," and that on those properties, "there are located materials, conditions and substances which create a public nuisance(s), namely dilapidated and dangerous buildings, and other offensive and unsightly matter in excessive amounts and quantities." 
The lawsuit says this nuisance reduces property value and promotes "blight and deterioration which, if permitted to remain, will continue to destroy the natural beauty of the City and have adverse economic and social effects on the City." 
Robert L. Johns and Thomas F. Johns are the LLC's sole listed officers/members, the lawsuit states. The company has not responded to multiple reporter inquiries. 
Rather than seeking solely monetary damages, the lawsuit says that because of NAJ's "persistent nuisance activity," an "action for damages is wholly inadequate." The city asked the judge to award the city a lien against NAJ's real estate "in any amount of any costs/expenses incurred by the city in abating said nuisance conditions" but also asked the court to order NAJ, LLC "to refrain from any future action that results in the creation of a public nuisance." 
City officials had made a number of remarks and had multiple discussions about how to solve the problem for at least a year and it was unclear during Council meetings whether a lawsuit had ever been filed. 
City Manager Chad Edwards has also said NAJ had purchased another property in Shinnston during talks with the company.
Following a public records request for correspondence and legal documents, Edwards referred further questions to Simmerman, who provided the lawsuit case number, 22-C-43-2.
In response to inquiries, officials in Bridgeport and Clarksburg also confirmed NAJ, LLC owns properties elsewhere in the county.
Kim Karakiozis, Clarksburg director of finance, said "NAJ, LLC owns several properties in Clarksburg and in Harrison County…  They purchased the majority, if not all of them, from the Sheriff's annual Tax Lien Sales."
Brian Newton, Bridgeport city manager, said NAJ "owns three properties in Bridgeport. We have had trouble with a couple of the properties and took them to court on one of the properties. We got a judgement against them on that particular piece of property."