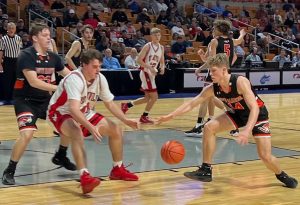 By Bill Nestor
Sports Editor
The South Harrison boys' basketball team had a season to remember.  The Hawks stormed out to a 20-0 record to start the campaign.  The quick start reminded me of the 1986 South Harrison squad which was the top team of AA behind the play of Brett Vincent.  That team was undefeated in the regular season but lost to Doug Hogue's Roosevelt-Wilson team in the opening round of sectionals.  Vincent went on to have an impressive college career and currently is the women's head coach at West Virginia Wesleyan.
After I graduated from college, I spent four years coaching at South Harrison.   There were some very talented players there like Joe Fenstermacher.  He went on to play at Salem after starting for four years at the Lost Creek-based school.  There were several quality teams at that time that made impressive postseason runs but did not make it to the state tournament.
Finally, in 1999, South Harrison broke through and earned the school's first ever state tournament opportunity.  It has taken over two decades for the Hawks to find their way back to Charleston.  This season, the program earned its second appearance led by head coach Tom Sears.  
During my four years in "Hawk territory", I was fortunate enough to coach several exceptional young men.  One of them was Coach Sears.  He was a hard-working player that had a special love for the game.  His passion grew and, through a great deal of hard work, Sears became the head of his alma mater's basketball program.  He has had some impressive seasons during his tenure.  The blueprint for success has always been consistent with the key components which have been hard work and dedication.  
This year's team lost just one game before slicing through sectional and regional play to garner the school's second trip to the state capitol.  This team is stocked full of key players.  Corey Boulden, Noah Burnside, and Austin Peck were key contributors this year.  Ironically, Austin Peck's father, Brandon, was another of those standout athletes at the school at the time I was coaching.  Needless to say, he was another reason for me to follow this season's edition.
South Harrison drew a talented Ravenswood squad in the opening round of the tourney this past Tuesday.  The Hawks jumped out to a 10-4 lead after the first period.  South Harrison continued their strong play in the second frame to hold a three-point halftime lead.
The third quarter turned out to be the difference as Ravenswood played well and would eventually claim the win.  Boulden led all scorers with 24 points.  Burnside chipped in with nine points, a game-high 13 rebounds, and four steals.  Peck dished out a game-high seven assists.  
Even in the loss, I could not have been prouder of the Hawks' veteran mentor.  Sears is a devout Christian and a great role model.  He is a leader of a church and a leader of young men.  He stands for all that is right and for that reason, I am a big fan!  Sure, the outcome in Charleston was not what was desired, but we are all playing the game of life, and that is where the score really counts!  Congratulations to this South Harrison team on a season to remember!
That will do for now.  Until next week…take care and God bless!