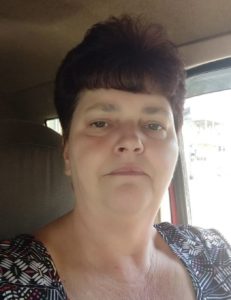 Terri Jo Swiger
Terri Jo Swiger, 59, of Wallace, passed away at 12:58pm, Saturday, May 20, 2023. She was born in Clarksburg, January 24, 1964, a daughter of Loretta Carol Swisher Purkey and the late Ronald Jeffrey Purkey.
Surviving are her husband, Roderick Nile Swiger, whom she married September 18, 1999; her children: Matthew Brian Purkey and his wife Marianne, Lumberport, Roderick Keith Swiger and his fiancé Dana Moore, Worthington, Lucas James Purkey and Joseph Dale Purkey, both of Huntington; six grandchildren: Gabriella Renee Purkey, Kenlee Jo Purkey, Sabastian Purkey, Colton Purkey, Maleana Purkey, and Johanna Purkey; several grandchildren; her siblings: Angela Purkey Mahaney, Harrisville, Todd Purkey, West Union, Monica Lacher, Salem, and Ronald Purkey, Jr.; her step-siblings: Richard Boyce, Jr., Tammy Boyce, Dennis Boyce, and Kenny Boyce; and several aunts, uncles, nieces and nephews. In addition to her parents, Terri was preceded in death by a brother-in-law, Brian Mahaney.
Terri was an employee of the State of WV for 14 years having worked at both the Department of Corrections and most recently at the Department of Motor Vehicles. She enjoyed many things including: woodworking, crafting, yard sales, working outside in her garden, motorcycles, camping and fishing. Her favorite place on earth was near the sand and water. She loved her dogs, Darsy and LayLay. She loved spending time with her family at cookouts and get togethers and made the best potato salad on earth. She especially loved her grandchildren and spending time with them. She will be missed by all.
The family will receive friends at the Perine Funeral Home, 1348 S. Pike St., Shinnston, from 2-8pm, Wednesday where funeral services will be held at 11am, Thursday, May 25th with Pastor Robert L. Shingleton officiating. Interment will be in the I.O.O.F. Cemetery at Brown. In lieu of flowers, memorial donations may be made to the Harrison County Humane Society. Condolences may be extended to the family at www.perinefunerals.com. The Perine Funeral Home is honored to serve the Swiger family.