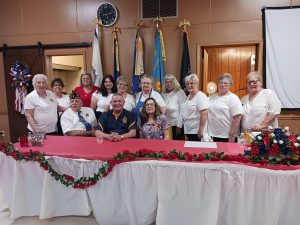 By Stephen Smoot
The core mission of the American Legion and its auxiliary organizations always remains the same. As Tom Willis, the post adjutant explains, "it's veterans. Helping veterans and their families."
And as the Legionnaires will take great pains to describe, that core mission gets expressed in an almost endless array of operations.
As Frank Nicholson, one of the Legionnaires explains, Shinnston's Post 31 was established in 1932, but the organization goes back much farther than that. In 1919, only five months after the close of America's first European war, soldiers and veterans convened their first caucus. By May, they held another caucus in St. Louis and officially adopted "American Legion" as their name.
Congress then took action and passed the charter for the organization in September, only 10 months after the close of the war.
A quarter century after its founding, the American Legion achieved one of its greatest victories, crafting what Nicholson called "the greatest piece of legislation ever created by our government." Officially called the "Serviceman's Readjustment Act," it is better known as the G. I. Bill. 
Harry Colmery, American Legion Past National Commander, said in support of the legislation that provided educational, housing, job training, and other benefits, "Never again do we want to see the honor and glory of our nation fade to the extent that her men of arms, with despondent heart and palsied limb, totter from door to door, bowing their souls to the frozen bosom of reluctant charity."
That eloquence well describes how each American Legion Post, especially 31, achieves its mission of helping veterans and their families every day.
Post 31 supports a wide variety of programs to help veterans, active duty servicemen and women, families, and the entire community. They view and treat all who come through their doors as extended family.
With veteran suicides occuring in Harrison County at the highest rates in the state, women suffering even more than men, Post 31 started the first American Legion suicide prevention program in the state.  In conjunction with the VA, the Legion works to help connect veterans with various suicide prevention programs.
Coming up on Oct 7, the Legion will also host a wellness day that will include whole health resources, a program by Humana, opportunities through the West Virginia Commissioner of Agriculture's office, and more. 
The commitment to veteran wellness does not end there. "We have a lot of issues with trying to get veterans to the hospital," shared Tom Jenkins, the Post Commandant. He stated that they have available vehicles, but need more drivers to help veterans get to their appointments and other critical medical needs. "Anyone who loves to drive and wants to serve veterans, we'd love to have him on board."
Betsy Turner, who works with the auxiliary and is also a seventh generation descendant of Morgan Morgan, first European to settle in West Virginia, described work done with veterans during long stays at the VA hospital. Just recently, as auxiliary member Marsha Duckworth shared, the lifting of restrictions allowed them to "go to the VA hospital once a month and do bingo for the veterans.
Also, during the holidays, the Legion provides a type of gift shop for hospitalized veterans. They can select small gifts to give to loved ones if leaving the hospital to shop is difficult or not possible.
Helping veterans and others doesn't require a special scheduled event or program. Jenkins explained that "today, we went and fixed a veteran's furnace." Recent work projects also included installing wheelchair ramps. Some went to veterans, but another was put in to help a young man access his grandmother's house so he could join her for Sunday dinner.
Education and fostering leadership remains a top goal for the American Legion. In West Virginia, the Legion Rider Legacy Run and other fundraisers help to defer the costs of the Boys and Girls State program. This camp provides leadership training and related experiences to some of the most outstanding high school students in the Mountain State.
Fundraising also supports scholarship programs and US Constitution oratory prizes. Although, as Nicholson says, it can be hard to get students to apply, the reward can be full or partial scholarships to West Virginia state supported colleges or universities.
The American Legion also puts together numerous opportunities for community celebration and fellowship. Duckworth said that last Friday, we prepared 230 meatballs for the cash bash dinner" that helps to raise money to support programs.
Willis joked "That's 225. I couldn't wait to eat mine!"
Later in the month, on Oct 22, the Legion will transform their hall into a scary and spooky extravaganza for the young and young at heart, throwing a Hallowe'en party, complete with haunted house. Willis said "they decorate the hall and everyone dresses up."
Having an active calendar helps the Legion keep an active membership. As many service clubs struggle to recruit new members, the Legion met 100 percent of its goals.
Many Legionnaires agreed that many in the community don't know the range of what they do. Duckworth said "a lot of people think we just run a bar" (which in the Legion is officially called a canteen.) While the bar helps to offset the costs of keeping the Post running, most who are in the organization do not even drink.
Jenkins described the commitment of the Legion to their culture, saying people "are more than welcome to join our family. There's always something to do, servicing a vet, servicing the community, or coming to help. We never turn down help."
He discussed how they have regular  "American Legion family meetings. You are invited to come and talk. If you have ideas, you can tell us."
Finally, "They need to know about American Legion Hope," Jenkins shared, saying it's "the hope that we can do what we are doing and that nothing ever stops us from doing it."