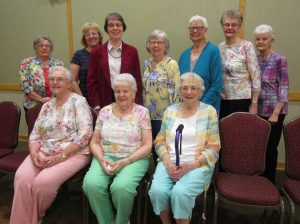 The Auxiliary to United Hospital Center held its annual Awards Luncheon on Wednesday, April 19, according to a news release.
It was held at the Bridgeport Conference Center at Charles Pointe, beginning at noon.  The tables were beautifully decorated by Social Chair, Cynthia Campbell.  Each place setting also had a bottle of clear, foaming hand soap, with a "Thank You for Being a Helping Hand" note attached.
Sharon Montgomery, Auxiliary President, welcomed everyone to the afternoon festivities.  Invocation was given by UHC Chaplain, Rev. Johnmark Camenga, followed by the Pledge of Allegiance, led by President-Elect, Pat Gray.  Lunch was served shortly after this.
President Sharon Montgomery introduced the guests and recognized the Auxiliary Past Presidents who were in attendance.  Guests were Dr. Mark Povroznik, Vice-President, Quality and Patient Safety; Lora Edgell, Director of Development; Johnmark Camenga, Chaplain and Patient Advocate; John Fernandez, Vice-President Operations; Shirley Cunningham, Human Resources Assistant; and Janis Dobbins, AWVHA President-Elect.  Past Presidents in attendance were Lyda Lister, Carole Moodispaugh, Helen McCarty and Carol Gaynor.
President-Elect, Pat Gray, Gift Shop Manager, Scott Griffiths, and the Director of Volunteer Services, Denise Steffich, conducted the Memorial Service for seven volunteers who passed away this past year.  Those memorialized were Norma Garrett, Arlene Bashnett, Carol Burnside, Annabell Barnard, Betty Gaston, Mary Gibson, plus our former Gift Shop Manager, Ida Diem.
Reports were given by Sharon Montgomery, President, and Dr. Mark Povroznik, and Denise Steffich.
Receiving hours pins were: 100 hours – Russell Cook, Kimberly Denny, Lois Reed.  500 Hours – Shelia Heston; 1000 Hours – Pat Gray, Robbi Whiteman, Karen Whyte. 2500 Hours – Sandy Miller.  3500 Hours – Sharon Montgomery. 16,500 Hours – Carol Gaynor.
Receiving pins for years' service were:  10 Years – Sharon Montgomery.  15 Years – Helen McCarty, Betty Pulice, Janet Wilson.  20 Years -Carol Gaynor.  25 Years – Joy Adams.  55 Years – Lyda Lister.
These festivities were followed by the Auxiliary Business Meeting and installation of new officers, conducted by President Sharon Montgomery.  The Incoming officers are President – Pat Gray; President-Elect – Donald Niles; Secretary – Judy Gonzalez; Treasurer, Judy Maxwell.
The gavel was passed from Sharon Montgomery to Pat Gray, after which there were drawings for door prizes, followed by the recitation of the Auxiliary Prayer and adjournment.