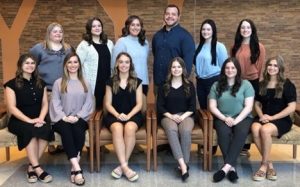 Bridgeport, WV—United Hospital Center School of Radiologic Technology recently held a Commencement and Reception for the 2023 graduates. Diplomas were presented to 12 students from Program Director, Tavia DeFazio; Clinical Coordinator, Jane Bray; and Clinical Preceptors, Lisa Knight and Abby Kovalck; at 5 pm on Saturday, May 13, at the Bridgeport High School Auditorium.  
 Rosemary Trupo, former Program Director at United Hospital Center, served as guest speaker for the Radiologic Technology commencement, while Jordan Bobbins delivered the class address.  Special presentations included Radiography Clinical Excellence Award presented to graduate Jordan Bobbins; Radiography Academic Excellence Award presented to graduate Kayla Knabenshue; and the Laurie D'Anselmi Technologist of the Year award to Mary Emileigh Boggs, Staff Technologist at United Hospital Center.
 Graduates of the School of Radiologic Technology include Lea Barker, daughter of Brooks and Kristen Barker of Fairmont; Jordan Bobbins, son of Donald and Jennifor Bobbins of Shinnston; Raeanna Burris, daughter of Ryan Bosley of Bridgeport and Leigh Ann Burris of Clarksburg and granddaughter of Norma Burris of Clarksburg; Jordan Heckert, daughter of Mike and Melanie Heckert of Clarksburg; Lyndsey Heckert, daughter of Mike and Melanie Heckert of Clarksburg; Autumn Hutzell, daughter of Greg and Joanie Hutzell of Belington; Kayla Knabenshue, daughter of John and Rebecca Knabenshue of Buckhannon; Morgan Koon, daughter of Holly McIntire and Mark Koon of Enterprise; Hannah Shreve, daughter of Don and Leslie Shreve of Salem; Madison Ware, daughter of Angy Helmick of Williamstown, WV and Darrell Ware of Buckhannon; Madison Westfall, daughter of Christopher Westfall of Jane Lew; and Skyler Zinchook, daughter of Amber Lewis of Philippi and T.J. Zinchook of Hazelton.
 Hutzell and Westfall will attend UHC Diagnostic Medical Sonography Program; Bobbins will attend the WVUH Magnetic Resonance Imaging Program; Shreve will attend the WVUH Nuclear Medicine Technology Program; L. Heckert will attend the WVUH Medical Sonography Program; Burris will attend the Nuclear Medicine Technology Program at CCAC in Pittsburgh, while J. Heckert and Barker will further their education in the WVUH Cardiac Sonography Program. Knabenshue, Koon, Ware, and Zinchook have accepted employment as staff radiographers at United Hospital Center.