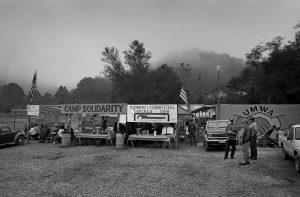 MATEWAN, WV – In a news release, the West Virginia Mine Wars Museum announced Camp Solidarity, a union training event in Historic Matewan this fall, Oct. 13-14 in Mingo County.
In March of 2023, the West Virginia Mine Wars Museum announced they will host a union training event in Matewan. This event is the first of its kind in Mingo County and 80 participants from around the country are expected to attend.
Camp Solidarity is a training event to build worker power where unions were born and was created by the Museum's team to aid labor leaders and activists in building stronger, more effective unions, while providing labor history education in the place where one of the most significant labor battles in the US took place.
Camp Solidarity attendees will network with other union members and leaders from across the country, participate in a wide range of interactive workshops, and take home critical skills to make their unions more effective.
In 1989 to 1990, more than 1,700 striking coal miners set up Camp Solidarity to house and feed 30,000+ union supporters who came from all across the nation to show solidarity during the 10 month strike against Pittston Coal.
The event is at 401 Mate St. Matewan, WV, 25678.  Tickets range from $170 to $200. To purchase tickets, visit https://tinyurl.com/campsolidarity.
For interested unions, organizations, and individuals, sponsorship packages at levels ranging from $100 to $5,000 are available.
Find out more about sponsorships and the conference on the Museum's website: https://wvminewars.org/campsolidarity.