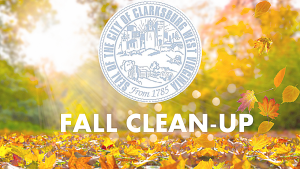 For Clarksburg Residents
By LEIGH C. MERRIFIELD
News & Journal Editor
Spring is not the only time when families devote some
time to cleanup! When approaching autumn weather
brings a little cooler temperatures, this is also a prime time
to perhaps do a little more than alter our wardrobes.
Garages, basements and storage spaces may have become
'home' to larger, bulky items that you would like to
dispose of, and the City of Clarksburg will soon be
providing that opportunity when it once again prepares to
host its Annual 'Residential Only' Fall Cleanup.
Open trucks will be paying visits to neighborhoods in
Clarksburg for residents to rid themselves of such items
that are not typically accepted on normal garbage pickup
days. This is limited, however, to one truck load per
residence.
Large items such as stoves, washers, dryers, hot water
tanks, and even dried out paint cans are a few examples of
items that will be picked up during this event. Items such
as refrigerators, air conditioners, and freezers are also
eligible for pickup, but they must be properly tagged,
noting that all Freon has been professionally removed.
Without proof of Freon removal, these items will NOT be
picked up. Normal household garbage will not be taken
during this event.
Due to recent changes in Landfill policies, this year the
City will be picking up electronic equipment such as
televisions, microwaves, and computers.
Vehicle parts, batteries and tires along with liquids will
NOT be picked up. Auto Zone at 106 W. Main St. will
accept used motor oil. Clarksburg Scrap Metals (702 N.
Ohio Ave.) and Nicholson Auto, Inc. (169 Peck St.)
receives old vehicle parts and all appliances.
This is a FREE service, and Clarksburg residents who
want to take advantage of this should place their items at
the curb or in the alley where their normal garbage pickup
is made. They do ask residents NOT place items out before
their scheduled day.
Small items must be boxed, bagged or tied. Nothing
loose will be taken, and all containers must be disposable
and of a size and weight that one man can lift it up into the
dump truck bed.
Please note that no materials from contractors' jobs will
be included in this free service. Neither will yard waste be
included in the pickup but will be picked up by the City's
Compost Department truck on the designated day.
Clarksburg's Fall Cleanup will run for three weeks
during October. (Week 1- Oct. 4-8; Week 2 – Oct. 18-22;
and Week 3 – Oct. 25-29). To view the neighborhood
routes and their corresponding dates, visit
http://www.cityofclarksburgwv.com/CivicAlerts aspx?
AID=362.
Anyone who has further questions may contact
Clarksburg's Public Works Center at 304-624-1611 or 304-
624-1612.