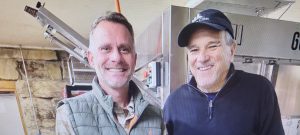 By Jim Hunt 
What would be better than to enjoy West Virginia's beautiful fall scenery with some delicious food and a glass of fine wine. My wife and I joined my sister and her boyfriend for a pleasant drive down Interstate 79 to visit Lambert's Winery. The winery is located near Jackson's Mill and occupies a large parcel of rolling hillsides and rustic buildings. We parked and walked over to a display of pumpkins and took pictures that captured the season like a Hallmark movie. We walked to the table where they were taking orders for the oven fired pizza and old-fashioned cornbread and soup beans. They also had bags of kennel corn that was freshly popped over a roaring fire.
We made our way over to the winery showroom and found a seat near the huge fireplace. After getting a glass of wine, we sat back and enjoyed our food as people milled around and listened to music from the disc jockey nearby. Lambert's Winery is a family run business started by Jim Lambert who passed away earlier this year after dedicating his life to bringing this dream to fruition. I had met Jim over twenty years ago when the Harrison County Chamber had a bus trip to the winery, and he took us on a tour of his "baby". After all these years, I still remember the large stainless-steel vats that held the wine and the cut stone building that housed the production area of the winery.
As luck would have it, while we were enjoying our pizza and wine, a younger fellow walked over and asked us if we were enjoying ourselves. He introduced himself as J.B. Lambert and said he was Jim Lambert's son. He was so friendly and accommodating that when he asked if we would like a tour of the winery, we eagerly agreed. He seems to share his late father's passion for the business and took us in the bottling area and described the process for filling the bottles, inserting the corks, and applying the labels to the finished product. We saw the cases of bottles waiting to be filled and he told us his unique way of signing off on the wine that has reached its peak time to be bottled.
A visit to the showroom and tasting bar led us to buying several bottles of wine and my sister got some of the pottery that is also available. J.B. explained that they do a lot of weddings and other types of events, in addition to the winery. When you looked around the property, you could tell that it would be a perfect place for a wedding or other type of celebration. The hospitality was evident as the entire staff was happy to point you in the right direction or assist you in any way possible.
On the trip back home, we drove through Jackson's Mill and reminisced about our daughter's wedding that was held in the West Virginia Building, and it brought back such nice memories. My wife also pointed out the cabin that she stayed in during her junior year of high school when she went to Girl's State.
A perfect fall escape, enjoying our wild, wonderful state and supporting a local business that continues a tradition of quality and hospitality.