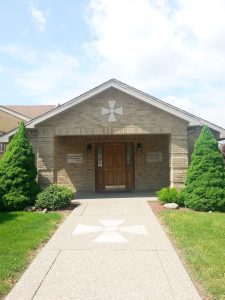 By Stephen Smoot
A century ago the population of Shinnston was about 600 less than today. The popular administration of President Calvin Coolidge had just started. Only two years had passed since Pittsburgh's KDKA broadcast the first college football game, naturally Pitt versus West Virginia.
Also, Shinnston saw the establishment of St. Ann's church to serve its active and growing Roman Catholic community. Last Sunday, it celebrated its 100th anniversary with a Jubilee Mass.
Mark Brennan, Bishop from the Diocese of Wheeling-Charleston, whose coat of arms reads "Living the Truth In Love," officiated over the Mass. He explained the special nature of the Jubilee Mass, explaining that "a Jubilee is a special occasion to celebrate some wonderful event."
"In this case," he added, "it is a celebration of 100 years of faith, love, and service by Catholics in the Shinnston area who founded St. Ann's and whose continued descendants have continued to worship, enjoy fellowship, and serve there."
That community, up until 1923, faced a problem fulfilling the needs of their faith. Despite an influx of Roman Catholic worshippers, they still did not have their own church. To worship Christ, Catholics had to make the trek to Clarksburg or other nearby communities or attend non-Catholic services.
To get to churches in other towns "wasn't as easy as it is today," noted Mary Kay Romeo from St. Ann's. 
Parishioners appealed to Father P. H. McDermott at Immaculate Concepcion Church in Clarksburg for assistance. According to the history page of St. Ann's website, the Church assigned Father Patrick A. Mullally to tend to the flock in Shinnston.
Romeo shared that Father Mullally held his first Mass in the funeral parlor of Shinnston Furniture and Undertaking Company, now better known as the G. C. Murphy building. Services also took place at the Rex Theater, which was located behind the current Casey's Restaurant.
The true meaning of "church" does not refer to a building primarily. In the Gospel According to Matthew 18:20, Jesus says "For where two or three meet in my name, I am there among them." So long as the rules of the Church are followed, a congregation can meet anywhere to hold Mass and worship God.
By 1924 the Church purchased a property on which sat an old harness shop, the land where St. Ann's sits now. As Romeo explains, it "came with old two story white houses." She remembers teaching religious education classes in them 50 to 60 years ago. 
The growing congregation required a growing church. Additions expanded the old harness shop into serving as a truly functional structure. St. Ann's history said, "This elongated rectangle, this long, low, glorified harness shop served the community for nearly thirty years" until 1952.
Romeo notes that the church also, when needed, used the United Mine Workers of America hall on Charles St.
Three decades after its founding and 70 years before today, St. Ann's received its new church building, renovated to meet Vatican standards in 1968.
As the church size and needs expanded, so did the building, which received a new rectory in 2005, as well as a new office and a parking lot.
But it bears repeating. A church is much more than a building.
Churches serve their congregants and the community. St. Ann's provides a number of faith-based and charity services to the community, As Romeo describes, until COVID forced changes, St. Ann's kept open an Adoration Chapel. She said "people from all denominations come and pray." It closed during COVID, but now has reopened three days a week, 12 hours a day. The church plans to expand those hours.
The Adoration Chapel hosts Mass the first Friday of every month. Romeo says "it's so well-attended, there's often no place to sit." "Father Joe," as the congregation affectionately calls associate pastor Father Deepu Joseph M.C.B.S. "commends the people of St. Ann for being so diligent with their faith."
"Our chapel is based on the Book of Revelation," Romeo stated, explaining that the influence is seen "in where things are placed, the number of candle holders, inscription on the altar" and other characteristics.
Bishop Brennan notes that the "beautiful" Adoration Chapel is where "parishioners come to spend time in the presence of Christ present in the Sacrament of the Altar." The Bishop describes the Chapel as "an outstanding feature of St. Ann's Parish."
Currently 256 families form the congregation of St. Ann's. Their main pastor is Father Akila Rodriga T.O.R. 
Romeo did not grow up in the Roman Catholic Church, but says "it's my salvation. I became Catholic and joined in 1963." She led religious education classes for years and describes the family atmosphere of St. Ann's. 
The church works to make children feel welcome in the services, but Roman Catholics take a different approach. "We focus on the Blessed Eucharist," Romeo says, "that is their goal. To receive the Body and Blood of Christ." Children attend Mass with their parents and sometimes do act as children do, but also get exposed to the sacred experience and learn its meaning.
They do not create separate secular influenced "entertainment." Church "is not only 'let's go and have a good time,'" Romeo explains.
St. Ann's maintains an active charitable presence in Shinnston. "We maintain a poor box," Romeo said, adding that anyone "can walk in our door and ask for food. We give vouchers for food."
"We don't enable," Romeo states, referring to some who suffer from drug addiction, "but we try our best to hep as many as we can."
St. Ann's also runs clothing drives, support local food pantries, and hold dinners to honor local volunteers, retired teachers, and others. Parishioners also visit homebound congregants and others who are restricted in what they can do for themselves.
Most important, as Romeo explains, is the "family atmosphere." "The whole parish is like a family," she shared, adding that "it's just a good place to be. People are more than willing to step up to help."
She went on to add that while the Church once saw families moving away, that process has reversed. Husbands and wives marry in the Church, stay in the area, and raise their children in the faith. This has helped St. Ann's to keep growing in an era often described as secular after 100 years.
"Anniversaries are useful to us," Bishop Brennan shared, adding that "in the case of St. Ann's the 100 year Jubilee allows the current parishioners to express their gratitude to the founders of the Parish, to keep in mind why the Parish exists – to share faith in Christ with others – and to re-commit themselves to living their faith together and bringing the Gospel to others in the Shinnston community."
He also expressed that "I pray that their congregation may grow as St. Ann's embarks on its next 100 years."