By Erin Beck
On March 8, a Wednesday meeting, Shinnston City Council approved applying for a $1 million project that would include cameras tracking license plates and monitoring traffic, as well as new school safety technology.
The approximately $1 million in guaranteed funding comes from Congressional discretionary spending thanks to Senators Shelley Moore Capito, a Republican, and Senator Joe Manchin, a Democrat.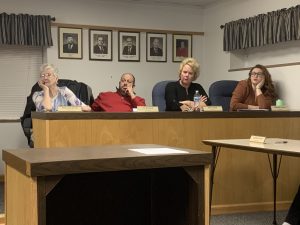 There was no explanation of the project before the members unanimously voted in a roll call vote to give City Manager Chad Edwards permission to apply for the funding.  
"The details will be coming," Edwards said.
"Anybody have any questions?" asked Amy Haberbosch Wilson, executive director of the Harrison County Economic Development Corp. 
"I mean, it's an opportunity to get a million dollars in the city of Shinnston," said Councilmember Maryann Ferris. "I am in favor of it, regardless of what we have to do, as long as it's not dancing naked in the street."
Edwards said he believed they'd be the first "Smart City" to receive the $1 million pilot project funding. Haberbosch Wilson then said they could designate another title other than "Smart City" if they liked.
According to the provided fact sheet, the city aims to "improve public safety and critical infrastructure by leveraging smart technology and concepts. By using sensors for traffic counts, incident verification, safety in schools, license plate readers and facial recognition, we will be able to create and maintain a safer environment for our residents, businesses, and visitors."
Technology components would include:
city-wide video management to inform public safety efforts, monitor traffic, and use license plate recognition and facial recognition

Smart School technology including computerized door locks with alarms, automatic notification and lock down systems in all schools, back-up power for school phones and other areas of safety discovered as the three-year project continues 
"One of the big concerns that you all can explain to some of the parents or even the police, it does not have to be facial recognition," Haberbosch Wilson said. "This can be weapon recognition, which I wasn't aware of. And that's huge too."
She added that the city is not required to match funding or provide labor.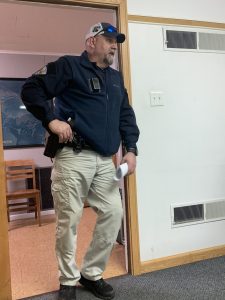 "But absolutely capitalize on the opportunity to use all of the software and the data from it," she said. "Because at the end of three years, if you want to end it, sell the cameras, do whatever, you're going to be able to use that data for 10 years."
She said the Economic Development Corp. is also looking for Congressional funding for the Enterprise-Interstate 79 connector project, discussed for decades, and spoke about the economic growth possibilities due to Shinnston's proximity to aerospace businesses. 
Police Chief Jon Harbert also spoke, saying cell phones could already be tracked. Councilmember Amanda Sayers added, "if you're not doing anything wrong…"