By Erin Beck
A steady stream of hungry customers formed lines outside of the Mr. Taco Food Truck, parked in off-street parking at 413 Pike St., The Soapbox, for most of the day on Tuesday, March 7.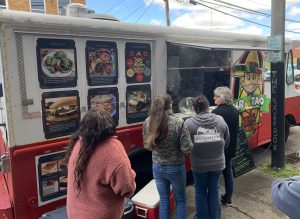 Alma and Kenneth Tyson, co-owners of Mr. Taco, had brought their food truck to town and plan to for at least the next several months, on every first and third Tuesday.
In between cooking, Alma Tyson said every dish she makes, she makes with love.
"I'm really, really happy when I'm cooking," she said. "I'm thinking of other people, because I want to share my traditions, my recipes, my food, my culture from Mexico to share with everybody."
"You ever notice your grandma's food tastes different? There's a reason," her husband added.
All their dishes are made from scratch with fresh ingredients.
Abigail Deitzel, who said she'd frequented the taco truck in several places, said she noticed that authenticity and appreciated the fresh ingredients.
"It's probably the best Mexican I've ever ate," she said.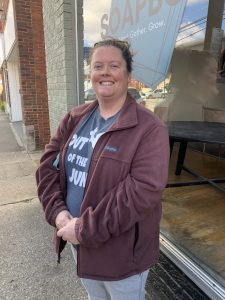 The Tysons, who've been married 20 years, said it was their third year owning the truck and they'd taken it to various surrounding locations, as well as Shinnston and to their regular stops at the VA Medical Center, where they contribute 10% of sales that day to the VA. 
But stops will increase in frequency now that the restaurant they opened last year in Glen Elk is more established.
The Tysons said the day was a kick-off for their taco truck season since the weather is getting warmer. 
They'd wanted to spend more time in Shinnston and said city officials had been helpful.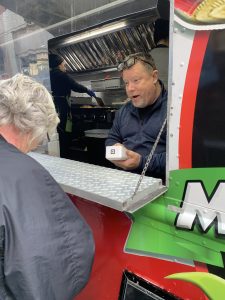 "It was hard for us before because we were using the green space and we were parked on the side of the road and there was a lot of people coming and there wasn't any place for them to kind of be, so we had to have the police direct traffic," Kenneth Tyson said. 
"This works out perfect because now the people can come and they can sit inside," he said, gesturing to customers sitting in The Soapbox to eat. "They have restrooms right here they can use. It's almost like a restaurant but right on the street."
"We just want to thank Shinnston for allowing us to come and we hope everyone comes and enjoys us being here," he added.