By Kara Linaburg
Forty-one high school students from around West Virginia competed in the state championship for Poetry Out Loud in Charleston, May 8-10. Lincoln High School 10th grader, Myah Riley, recited from memory two poems, one being "Acquainted With The Night," by Robert Frost, one of her all-time favorite poets.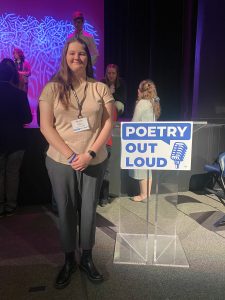 "I'm a big Robert Frost fan and I just got the complete collection, and
that was one I'd only read a couple times, but it kinda just struck within me," Riley said. "I was really nervous. It was my first time competing at Poetry Out Loud; it was my first time on a stage solo. And it was definitely nerve-wracking."
Riley said that after the competition, she listened back to hear how she'd done. She could hear her voice shaking for the first poem, but by the second one, she felt that there was more confidence in her tone.
Even though Riley didn't place in the top ten, her teacher, Maria Osbourn
said Riley had represented Lincoln well. "I am extremely proud of Myah. She did an excellent job with her poems and competed against over 50 other high school students throughout the state."
Riley said that to prepare for the competition, she listened to other people
recite the poems she'd chosen, watched herself recite them in the mirror, and credits the help of her teachers and fellow students. "A couple days before we left for Charleston, I recited in front of different classes throughout my school and asked for teacher feedback, student feedback, and that honestly really helped."
Poetry is something Riley enjoys outside of school, and she said that she loves writing her own poems about sports, space and nature, and high school drama. "I am a huge poetry fan. I've been writing poems since fifth grade (and) I've been reading them even longer. I like that poetry allows people to write about feelings and emotions when you can't find just the right way to describe it."
"Her love of poetry was evident in her recitations," said Osbourn of Riley's love of the art. "And I think that's why she enjoyed the weekend so much."
According to a press release from the West Virginia Department Of Arts, Culture And History, there were more than 4,800 students who participated in Poetry Out Loud this year, and Riley said that she learned a lot during the competition.
"I learned to kinda just be confident, in not only myself but if it's something I believe, to say it with confidence. And, that the world isn't such a harsh place, because even if there are already people doing it, if you can do it, just work at it and one day you could be doing it the best and completely innovate the ways things are done."