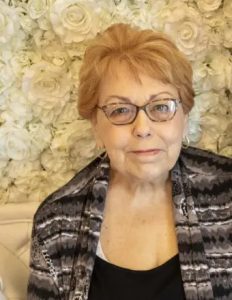 Barbara Jean "Barb" (Vernon) Morris
Barbara Jean "Barb" (Vernon) Morris, 73, of Monongah went home to be with Jesus on Friday, November 10, at her home after an extended illness.  She is survived by her devoted husband of nearly fifty-two years Carl William Morris of Monongah.  Also surviving are a son Christopher William (Carly Lauren) Morris of Monongah, a daughter Cheryl Wendy Morris of Fairmont and two grandsons, Caleb Win Morris and Cole William Morris of Monongah and one granddaughter Carly Willow Morris of Grafton and four step children: Andrew, Kendall, Olivia and Grant Burch of Georgia.
Barb is also survived by six brothers: Randall Vernon of Clarksburg, Richard (Tena) Vernon of North Myrtle Beach, SC, R. Bruce (Janice) of Shinnston, Rodger Vernon of Morgantown, R. Phillip Vernon of Clarksburg, and R. Scott Vernon of Lancaster, PA, and two sisters, Alicia Buchanan of Hutchinson and Heather (Greg) Stalvey of Longs, SC.  She is also survived by twenty nieces and nephews.
Barb was preceded in death by her parents Robert F. and Joan C. Vernon, one brother Ronald C. Vernon and her dear cousins Brenda L. Watkins and Cheryl K. McDonald.  
Barb's family extends special thanks to her caregivers, Alissa Justice and Stormy Kellar, and her best friend Goldie Huffman.
Barb was a Christian by faith and will be cremated as per her wishes.  A memorial service will be held in her honor at Harmer Funeral Home. The time will be announced when the arrangements are complete.