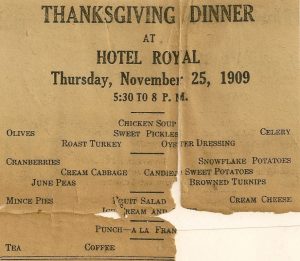 By Bobby Bice
This month's photo is actually a clipping from an old newspaper. It shows that a wide variety of items would be offered for dinner on Thanksgiving in 1909 at Shinnston's Hotel Royal. Though several items seem out of place for the Thanksgiving dinners that I've grown up with, they were quite common for meals over 100 years ago.
The location mentioned, Hotel Royal, was located at the northwest corner of Pike and Rebecca Streets.
Today, it is an open grassy lot across from the United Methodist Church. It may seem odd to some people to think of Shinnston as having a hotel, but there have actually been many located in Shinnston over the years. Hotels, tourist homes, and boarding houses were once very much utilized by the out of town visitor or weary traveler needing to stop for the night.
The building which housed Hotel Royal was originally built as the home of Charles Knox, who was once Shinnston's postmaster. He was appointed as such on May 10 th , 1897 and the post office was located in this home at that time. A woman named Mary Lucas purchased it from Charles Knox in October 1905 when the Knox Family moved to California. Thomas B. Smell & his wife, Jennie V. (Hall) Smell were living in the structure by 1907 and they were the ones who first began renting rooms in the house, naming it Hotel Royal. For those who may like making name connections, the Smell's daughter was Edna (Smell) Harmer, the mother of the late Harriet Harmer. So, the original operators of Hotel Royal were Harriet Harmer's grandparents.
As evident by the newspaper ad, the dining area was not only open to hotel patrons, but open to the general public as well. It would be open during lunch and dinner times and became known as both the Hotel Royal Restaurant as well as simply Royal Lunch. The cook for the restaurant lived as a renter and different women served as a waitress over the years. A dishwasher and a front desk clerk were also employed. The hotel also contained a billiards room with a pool table. 
Later, different hotel owners also operated a small grocery store, which was located in one of the ground level rooms and named Royal Grocery. Selling fresh and cured meats, home-boiled hams, homemade pies, and miscellaneous dry goods, they utilized the space to bring in as much income as possible. Also, Hotel Royal was an agent for American Laundry of Fairmont, so soiled laundry could be left there for them to clean. They were also an agent for Wilson's Bread of Clarksburg, which was baked fresh every day. The building was quite large and any available space was utilized for income. 
At one time early in his career, Ruble Marsh operated his cleaning and pressing business in the building; he also sold suits there. One of the owners also had a tea room in operation during the early 1920's. The hotel had several owners and operators over the years, and a new name for the hotel came with each owner, but Hotel Royal has been the name known more throughout local history. This may be due to the fact that a postcard was made and put into circulation during the Smell's ownership, with it named Hotel Royal. 
A copy of that postcard can be found in this edition's 'Out of the Past' photo.
In addition to the Smell Family, the other owners/operators over the years include: Delmer "Dell" Fuller, George Baldwin, J.R. Scott, Mr. and Mrs. O.L. Reed, and Mr. and Mrs. Frank Williams. The longest owner of the structure was the Riley Family, who owned it for about forty years. Noel Riley purchased the building in the early 1930's, renovated it, and opened part of it as Riley Funeral Home in November 1935, while also utilizing the structure as a residence. Noel passed away in 1950 and a few years later, his widow Alvaretta Riley, leased the funeral home part to John Ellis and Joe Stacy to operate Ellis-Stacy Funeral Home. It later became Lynch-Stacy Funeral Home, which moved to the [current] Brennan home near present Lincoln High School. After Alvaretta's death in 1973, the home was sold to Jim Demus at which time it was razed.