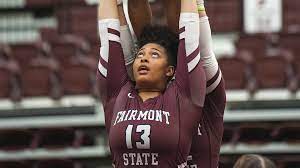 BRIDGEPORT, W.Va. – Peyton Barnes, a former member of the Fairmont State acrobatics & tumbling team, has been selected as the Mountain East Conference nominees for the 2023 NCAA Woman of the Year Award, the conference announced on Monday (Aug. 28). Barnes joins Frostburg State's Abbey Dennis as the nominees for the MEC. Barnes and Dennis join 164 conference-level nominees for the 2023 Woman of the Year award.
 Barnes, from Waldorf, Md., was a four-year member of the Fairmont State Acrobatics & Tumbling team and was named the MEC Specialist of the Year following her senior season in the spring of 2023. She was also recognized nationally by the National Collegiate Acrobatics & Tumbling Association (NCATA) as the 2023 recipient of the Colleen Kausrud Leadership Award, recognizing the senior Acrobatics & Tumbling student-athlete that exemplifies leadership throughout her career.
 In addition to earning all-conference recognition for her performance on the mat, Barnes was also a triple major at Fairmont State and earned degrees in National Security and Intelligence, Political Science and Criminal Justice. She graduated Summa Cum Laude. She was a three-time member of the NCATA All-Academic Team, was named to the NCATA Academic Honor Roll, and was a member of the MEC All-Academic Team four times during her career.
 She also earned the 2023 Jasper H. Colebank Award, recognizing the top senior student-athlete at Fairmont State. She helped Fairmont State to two MEC Regular Season and Tournament Championships and was an eight-time conference champion in individual events.
 She was also a member of the student-athlete advisory committee (SAAC) as a Fairmont State and Mountain East Conference representative.
 Established in 1991, the NCAA Woman of the Year award recognizes female student-athletes who have exhausted their eligibility and distinguished themselves in their community, in athletics and in academics throughout their college careers.
Of the 164 conference-level nominees, 62 competed in Division I, 39 in Division II and 63 in Division III. Nominees competed in 20 sports, with multisport student-athletes accounting for 51 of the nominees. The conference-level nominees have an average GPA of 3.83.
Next, conference-level nominations will be forwarded to the NCAA Woman of the Year Selection Committee, which will choose the top 10 honorees in each of the three NCAA divisions. The NCAA will announce the Top 30 honorees in October.
From those 30 candidates, the selection committee determines the top three finalists in each division. The NCAA Committee on Women's Athletics will select the Woman of the Year from the nine finalists. The 2023 NCAA Woman of the Year will be announced during an award ceremony at the NCAA Convention in January 2024.