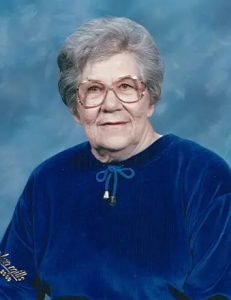 Roberta Jane Conaway Parrish
Roberta Jane Conaway Parrish, age 92, lovingly known as "Bobbie Jane," went to be with her Lord and Savior on Monday morning, August 28, 2023, surrounded by her family. Bobbie was born on the 6th of May, 1931, in New Baltimore, Michigan, daughter of the late Harry "Jesse" and Jane Steele Conaway of Farmington, WV. She is survived by her son Rick and wife Connie of Fairmont, WV,  daughter Tammie and husband Dan Moyer of Shinnston, sisters Ruth Mary Saban Pasko, Fran (Sid) Popovich and Ginger Hill. Grandchildren Jennifer and Richie Simpson, Cody and Lacy Wilt, Brian and Kristi Parrish, Mandy and Anthony Kendziora, Brandi and George Buck, Renee Simpkins, Bobby Parrish and great grandchildren Creed, Eli, Gabbie, Taylor, Logan and Katie.
She was preceded in death by her loving husband, Charles F. "Pete" Parrish whom she married on January 31, 1948, her son Charles E. "Butch" Parrish, her grandson Ricky Parrish, her parents Jesse and Jane Conaway, her in-laws Charles and Ada Parrish and many beloved sister and brother in laws.
Bobbie left high school after her Junior year to work at Westinghouse and then went to housekeeping with her new groom. They began a life of service in their young marriage with the United States Navy and the US Coast Guard before eventually settling into Pete's career and travels being a Federal Supervisor with the Mine Safety and Health Administration. Bobbie worked many years at Hartley's Department Store in Fairmont and was a cook at Idamay Elementary.
Bobbie was a loyal member of the Enterprise Rebekah Lodge and the Enterprise United Methodist Church where she enjoyed helping with their Easter egg and apple butter fundraisers. She was a wonderful baker making many goodies for raffle for the Idamay Black Diamonds, a talented seamstress making many beautiful afghans and beaded crochet necklaces for her friends and family. Bobbie and Pete were avid music fans making many yearly trips to Nashville for Fan Fair week. In her later years, she was a devoted fan of her nephew Nick Saban and the Alabama Crimson Tide, a doting great grandma to Creed whom she loved watching grow and she especially enjoyed her family time.
Friends and family will be received at the Harmer Funeral Home on Thursday, August 31, 2023 from 2 to 8 and funeral services will be held there on September 1, 2023  at 11 o'clock with Pastor Brian Plum officiating. Interment will follow at the I.O.O.F. Cemetery in Enterprise.
The family would like to give a special thank you to Dr. Kristian Morrison, sister in law and caregiver Vickie Parrish Chrislip, to Elizabeth and Andrea and the many sweet nurses who brought compassion and much needed humor and Pastor Jerome Lewis from Amedysis Hospice for the care and music they gave to Bobbie and her family. A special mention to Charity Vance, her resident aid at Harmony at White Oaks.
  In lieu of flowers, the family requests that donations be made to your choice of Shriners Hospitals.
Online memories and condolences may be shared at www.harmerfuneralhome.com
A service of Harmer Funeral Home, Shinnston.