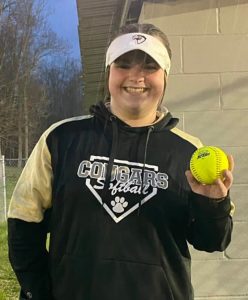 Midterm softball grades came out last week and Lincoln's was perfect. Veteran Head Coach Yancey Weaver has his squad playing at an extremely high level. The Cougars are 9-0 with 13 regular-season games scheduled when this article was written. 
The combination of stellar pitching and major run production has been a difference-maker. Delaney Haller has been one of the most dominant hurlers in the Mountain State. Lincoln has only allowed 11 total runs and has four shutouts on the campaign. The bats have been working overtime for Weaver early on as well. The Cougars have scored eight runs or more in six of those games and average just shy of 10 runs per outing. 
This past week, Weaver and company went 3-0 with wins over Liberty, Fairmont Senior, and North Marion. The 5-4 victory over the Mountaineers is one of just two one-run triumphs, the other seven have been by three or more runs. Haller went the distance in the circle striking out 14 Liberty batters in the process. Haller also did her fair share of damage going two for four with a double, while scoring a pair of runs. Cadence Lambert was two for four with a stolen base, while scoring three runs. Alaina Rice also recorded a multi-hit effort for Lincoln going two for three.
The next evening (Tuesday), the Cougars blanked Fairmont Senior, 8-0. Haller three a two-hit shutout striking out 13 Polar Bears. She also helped her own cause at the plate going four for four with a double and a home run. She also drove in a pair of runs and scored twice. Williams was two for five with a double scoring two and driving in a run. Karris Drain was two for four with two runs batted in and one run scored. Emalee Brown was two for four with a run scored. Aliyah Elder rounded out the multi-hit performance for Weaver. Elder was two for three in the victory. 
The Cougars garnered their final win of the week on Thursday, nine to one over the Huskies. Haller collected the hat trick going the distance in the circle. Haller showed her dominance with a third consecutive double digit (10) strikeout effort. Lincoln scored their nine runs on just seven hits. Lexi Owens was one for three with three runs batted in while scoring once and recording a stolen base. Emily Robey, Haller, Williams, Rice, and Kaitlyn Shingleton all had hits in the contest. 
The Cougars were also strong defensively behind Haller in the three game set. They committed just two errors while Liberty, Fairmont Senior and North Marion combined for 11 miscues.
Starting this evening, April 14, Lincoln has key lockups with Big 10 foes Grafton, Philip Barbour, Bridgeport and Buckhannon-Upshur. The first three of them are on the road before returning to Shinnston to host the Bucs. The remaining four games of the regular season are with South Harrison, home; North Marion, away; Robert C. Byrd, away; and Liberty, home. 
It's been a great start to this season for the Cougars. They will continue to work hard and try to peak when the post-season rolls around. 
That will do for now. Until next week… take care and God Bless!