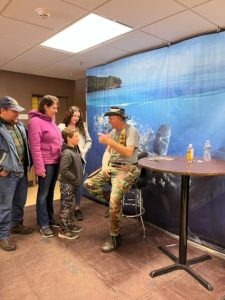 With a broken left arm and a sore shoulder, Ernie Brown, known as the Turtleman, paid a visit to the Harrison County Recreation Complex to check out the dinosaur exhibit and take some time for fans of his YouTube Turtleman channel. To most, he is a famous television personality, but to the Parks Department, he is a good friend.
Brown's former Animal Planet television show, "Call of the Wildman," aired from 2011-2014 and the show was a great success. And to put it blankly, he does on the show what he has been doing since he was a little kid. Raised in Kentucky, Brown saw the outdoors as a playground and his fascination with turtle catching turned into a niche for him. Animal Planet picked up the show and that gave him a broader audience to entertain.
Ray Garton, local paleontologist and owner of Prehistoric Planet, met the Turtleman during a couple exhibit shows along the way and they quickly became friends. As Garton often says, "What you see on television is what you get in real life when it comes to Ernie (Brown)." 
Director Mike Book agreed and elaborated more about the first interaction with our visitor. "He is very much down to earth and is very interested in those he meets. He has been to our facility four times already and spoke to kids during a field day and everyone enjoyed him. He has vast knowledge about pretty much all things that lurk in the ponds and rivers and believe me, he is a braver man than I for doing some of the things he does."
The meet and greet was by far not what spring typically feels like. With snow, sleet and rain in the forecast for the Saturday April 9 visit, the crowds made like mail carriers and did not let the elements affect them as they wanted to get a glimpse of the star.
And you can forget it ladies, the Turtle Man is a kept man nowadays. His girlfriend Suzanne has been his public relations person for the past three years, keeping him on schedule with his tour shows and stops along the way. It is a good combination to see the two work together when it comes to scheduling and merchandising his products. It is probably a blessing that the two have met. Brown was at a loss when his good friend Neil James and cohort on the Animal Planet and YouTube shows passed away.
Earlier in the year, it was confirmed that Brown was indeed injured while cutting down trees around his home in Lebanon. A tree fell from above and struck Brown on the upper body and broke bones in his right arm and hand. Today, Brown is taking a break away from filming until he can get back to good health. On his YouTube channel, you can see episodes like Snapping Turtle catching and even a multi-series on searching for Big Foot. Please feel free to check out the videos and be sure to subscribe. 
Brown was on site from noon till 4 p.m. meeting with fans from the area. People would stop for photos or just to say hello and shake his hand. Also, there was a small amount of merchandise on hand for purchase including Turtleman t-shirts, arrowhead necklaces and other items related to the Turtleman shows.