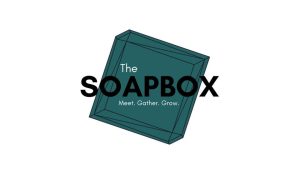 By Sarah Hayes
Staff Writer
Local business owners and Shinnston residents, Brendan Gallagher and Maria Cusack, are expanding their existing business, Black & Teal Concepts, to include a new creative arts venue.  The Soapbox is located at 413 Pike Street in Shinnston.  
Gallagher and Cusack said they aim to showcase art and culture in the small town of Shinnston.  Patrons will be able to experience art, live music, and comedy shows.  The Soapbox is working with local musicians on live music events and local artists for art galleries.       
Rather than serving food for events, the owners said they have decided to keep their focus on the arts and use local food trucks outside for concessions.  In addition, The Soapbox has plans to have classes available to the public that will consist of painting and a variety of arts, along with yoga classes.
The Soapbox's opening event was scheduled for Saturday, and featured a hilarious group of West Virginia comedians that go by the name of The Fearless Fools – West Virginia's Comedy Troupe.  Not only did patrons get to enjoy a comedy show, but the Drifter Doughnuts food truck was parked right outside.
If you missed The Soapbox's opening event, don't worry. On April 10, The Soapbox will be hosting their first pop-up shop with vendors Sunmoon Apparel from Bridgeport and 310 Soap Co.  The Wonder Bubble Food Truck will be available for concessions during this event.  
On April 22, BJewell Studio will be holding an oil painting class. The dates aren't finalized yet, but there is also discussion about holding an entire watercolor series in the future with BJewell Studio.
Those interested in keeping up with The Soapbox can follow the venue on Facebook at https://www.facebook.com/TheSoapboxWV.