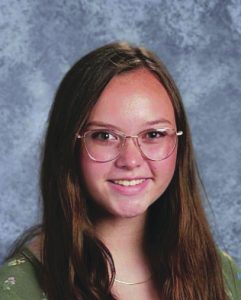 Submitted by Holly Hawkins, Lincoln High School assistant principal
Lincoln High School has named the students of the month for February.
Santino Louis Loretta
Santino Louis Loretta is a senior at Lincoln High School and is the son of James and Joelle Loretta of Shinnston.  He is the grandson of Viviane and the late Ralph Spagnuolo of Shinnston and Josephine and the late Louis Loretta of Bridgeport.
Santino has continually maintained status on the Perfect Honor roll and currently has an above 4.0 GPA.  He has earned numerous academic awards, which include being recognized as a Top Scholar in College Algebra and is ranked in the top 10 of his graduating class.  He completed numerous honors, Advanced Placement, and collegiate level courses by means of the dual credit program and on his own time.  By the end of his senior year, he will have earned over twenty-four college credit hours.  In addition to being dedicated to academics and college preparedness, Santino has also focused on developing trade skills by taking 2 years of welding training at the United Technical Center.   In May, he will achieve his welding certification.
Santino has been previously active in school organizations including the Drug-Free Club, Student Council, and Key Club, and is a current member of the National Honor Society and tennis team.  Contributions to his community include participation in city-wide clean-up days, volunteering for church and civic organization fundraisers, and collecting items for local food banks.  Last year, Santino initiated, organized, and led an effort to honor veterans for Memorial Day by placing over 1,000 flags on graves in the Shinnston Memorial Cemetery of those who served.  Additionally, Santino was recently awarded the Voice of Democracy Scholarship from the Meuse-Argonne VFW Post 573.
While school is certainly a priority for Santino, his passion is racing.  He's been competitively racing go-karts since he was five years old and is now racing full-size dirt track cars as well.  He's won seven out of eight track championships in which he's competed and works diligently to stay on top of his game – both in the garage turning wrenches and behind the wheel.  Santino plans to attend West Virginia University, major in mechanical engineering, and become an active member of the WVU Formula SAE race team.   
Victoria Rhayne Andrick
Victoria Rhayne Andrick is the daughter of Tiffany Somazze and Jamie Andrick, and the granddaughter of Hope and Randy Andrick and Pat and Jim Swiger. 
Academically, Victoria earns Perfect Honor roll each six weeks. She has received multiple Top Scholar awards in classes. 
Athletically, she is a four-year member of the marching band where she has earned multiple awards at parades and concerts. 
Victoria's future plans include attending Marshall University for nursing. She hopes to enroll in UHC's radiology program to continue her education.