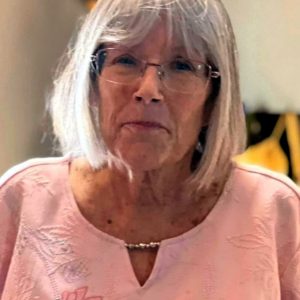 Carol Ann (Groves) Norris
Carol Ann (Groves) Norris, 73, of Clarksburg, WV, went home to be with her Lord and Savior on May 8, 2023 after a courageous battle with cancer.
She was born on March 8, 1950, a daughter of the late Glenn and Carol Jean (Burton) Groves, who raised her to love racing. She spent the majority of her childhood at the race track watching her father's race car and continued to watch Nascar races up to the very end of her life.
Carol graduated from Roosevelt Wilson High School in 1968 and went on to work at Hope Gas in her 20s. However, after she married Larry Norris on May 29, 1976, Carol began her true life's work on the one thing she wanted more than any other: a big family.
Having grown up an only child, it was Carol's dream to have a large family around her. After becoming a mother, she dedicated her life to raising her daughters, who, thanks to her steady care, affection, and attention, grew up to marry and each have three children of their own.
For her daughters, their husbands and all of her grandchildren, Carol made a home that was often the first stop after school, and always where holidays and birthdays were celebrated. Her home was where the table was always filled – whether it was daily dinner or a holiday feast. She offered an ear to listen, and words of comfort and encouragement. She was front and center at hundreds of games, events, performances, school functions, cheer competitions and dances, never missing the achievements of any grandchild, making them each feel as if they were the only child in the world. She gave her time and energy and resources to make sure each member of her family had what they needed, whenever they needed it.
For over a quarter of a century, Carol has been the matriarch of her family, a family that has grown and flourished, actively contributing to their family, church and community. As her own family grew, Carol continued to honor her mother and father by keeping their memories alive through family traditions, which her children and grandchildren will now pass on to future generations.
Building a thriving family was both Carol's dream and her life's work, and in achieving these goals, her life has been an incredible success. The path from only child to the matriarch of a family of 10 wasn't always clear or easy, but Carol traveled it with love and dignity, and she leaves behind a legacy that will be cherished. Just as it has in the past 73 years, the positive impact of Carol Ann Norris' life will be felt in her home, her church, and throughout her hometown of Clarksburg for generations. Carol was a 40 year member of Duff Street United Methodist Church.
She is survived by her husband, Larry Robert Norris; two daughters, Tiffani (Rob) Murphy and Kari (Brian) Smith; six grandchildren, Emily, Timothy and Lilyanna Murphy and Ashlyn, Ethan and Chloe Smith; a cousin, Alecia (Pat) Ford; and sister and brothers-in-law, Mary Ann & Mark Ribas and Carolyn & Bill Norris.
She was preceded in death by her parents, aunt Patty Sirk, and cousins Kenna Jean Sirk and Geri Hanby
Interment was in the Greenlawn Memorial Cemetery.
Expressions of sympathy may be extended to the family at www.amoscarvelli.com.  A service of Amos Carvelli Funeral Home.