By Jim Hunt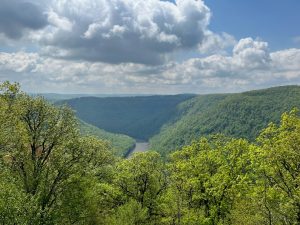 Just a short drive from Harrison County is one of the most iconic spots in West Virginia that has attracted tens of thousands of visitors over the years. The Cooper's Rock State Park sits just off Interstate 68 in Preston County and offers one of the most photographed views in the state. The park gets its name from a legend about a fugitive who hid from the law near what is now the overlook. A cooper by trade, he made barrels at his mountain hideout and remained in hiding for many years. Much of Coopers Rock was originally developed by projects of the Civilian Conservation Corps from 1936-1942. Many of these structures, including large rustic picnic shelters, are still in use today and are listed on the National Register of Historic Places.
I first visited Coopers Rock as a freshman at West Virginia University and enjoyed the hiking trails and the unique rock formations. Over the years, it has been a place of enjoyment and solace and I loved introducing it to my family and friends. When WVU had a nationally televised football game, I would often see that the producers had sent a camera crew to Coopers Rock to play during the broadcast. It is also a popular stop for the "leaf peepers" in the fall, as the colorful view equals any throughout the country.
My most recent visit to Coopers Rock was to attend a memorial service for my cousin, Shirley Ann Wilson. Shirley was born in Hundred, West Virginia and was the daughter of Bud and Wanda Tracy. She grew up in Weirton, West Virginia and after graduating from college, she moved to Queens in New York City to work for American Airlines at LaGuardia Airport. She met her husband, Roger Wilson in Jackson Heights, NY and they fell in love and were married for 67 years. During her lifetime, she visited all 50 states and 53 countries but never lost her love for West Virginia.
At the memorial service, I got to catch up with many of my cousins and reminisce about Shirley and her incredible life. There was also a lot of discussion about the unique role that the state of West Virginia has had on the lives of many of the descendants, many who have never lived in the state. It is amazing that hard working families in the hills of West Virginia have had children who grew up and relocated throughout the world to find fortune and fame. Even my own two granddaughters, who were born in South Carolina, love West Virginia and visit us each summer.
So, it was fitting that as part of the memorial service, Shirley's ashes were scattered at Coopers Rock State Park. Her family knew of her love of the state but were not sure why she chose Coopers Rock for her final resting place. As her family members walked to the overlook, they looked at the glorious view and the question was answered. She began life as a West Virginian and will forever be a part of "Almost Heaven".