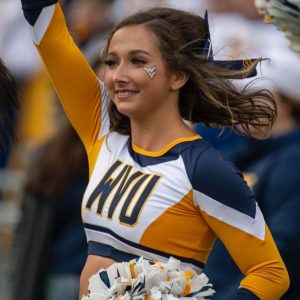 By Jim Hunt for the News and Journal
One October evening, many years ago, a group of kids came to our house trick or treating. They were dressed in colorful costumes — Power Rangers, superheroes, goblins and fairy princesses.  I spotted one little girl, dressed as a cheerleader, and recognized her as the granddaughter of one of our neighbors. Her parents stood on the sidewalk as they watched her and her brother and sister get a few pieces of candy and politely say, "thank you". The choice of the cheerleader costume was appropriate since we would often see her in her grandparents' yard, doing cartwheels and jumps. I can remember her grandmother saying that she loved cheerleading and wanted to be a cheerleader more than anything. 
It is hard to know what attracts these aspiring cheerleaders to this iconic part of American life. Is it the colorful uniforms, the pom-poms, the intricate routines or some other unknown attraction? We may never fully know, but rest assured, there will always be a large group of eager youngsters, standing in line for the try-outs and hoping to make the cut. It is not an easy journey and takes the commitment of the student to devote hundreds of hours of practice, all the while maintaining their grades and other activities at school. Even the try-out process is an emotional minefield for these young children, as not everyone can make the squad and many parents must wipe away tears, as their young kids deal with the loss of a dream.
It is with this in mind as I continue the story of the young cheerleader who came to our door. Her name is Emily Murphy, and she continued her dream to be a cheerleader when she entered Washington Irving Middle School and made the cheerleading squad. She was such a sweet child and seemed so young when I first saw her in the WI cheerleading uniform. As the years passed, I would see her riding her bike on our street and always having a smile on her face. The middle school years were soon over, and young Emily was heading for high school at Robert C. Byrd High School. 
I was pleasantly surprised to hear that Emily had made the cheerleading squad at RCB, especially since the squad was among the best in the state. She helped continue the success of the RCB squad and excelled in her academics. Throughout her high school years, Emily was still the girl next door, active with her church and attentive to her younger brother and sister. As she completed her high school years, it seemed to be the end of a dream for the young cheerleader. How wrong we were!
The little girl with a dream went on to West Virginia University and, against the odds, became a WVU cheerleader. She has had an amazing career and cheered on the Mountaineers before thousands of fans and millions watching on television. She did it all, while completing her studies and still having time for her church and family.  We should all be proud of this Harrison County native and certified "Dreamcatcher!"