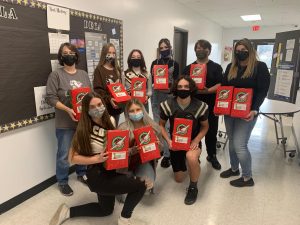 By Dawn Hensil
Staff Writer
The students of the Lincoln High School DECA- FBLA (Future Business Leaders of America) club have been busy over the past several weeks.  Members have been working to give back to the community and help those who need it most.  
Liam Gallagher, a sophomore and director of public relations for the Lincoln DECA-FBLA club, said the students and officers organized and participated in their annual Samaritan's Purse Operation Christmas Child shoebox donation drive. Students brought in donations,  filling a total of 15 boxes. They also raised money for shipping.
"The boxes were delivered to Shinnston Baptist Church on Nov. 18, where they will be shipped out to children all over the world," he said. "DECA-FBLA students will be tracking each box to see where they end up and included a picture and letter in each box for the recipient.  This is the fifth year the organization has participated in this event." 
DECA-FBLA members also participated in the Sleep in Heavenly Peace event, Gallagher said. Members of the club went to Bridgeport to build and assemble beds for children in need. 
On the "Build Day, " the Lincoln DECA-FBLA Club brought four members and their advisor Mrs. Julie Yearego. They were accompanied by five members of the Lincoln High School Key Club. 
Finally,  on Nov. 29, the students showed their appreciation to Lincoln High School's faculty and staff by donating, preparing and delivering almost 70 Thanksgiving care packets. These care packets included tissues, chapstick, and a gift card for McDonald's.  
"Lincoln's DECA-FBLA organizations celebrated National Day of Giving by handing out coupons to all staff members at Lincoln High School and their members," Gallagher said.  "Officers collaborated with the owner of the Shinnston McDonalds, John Ebert, who graciously donated all the coupons and members created thank you tags to attach to each coupon."