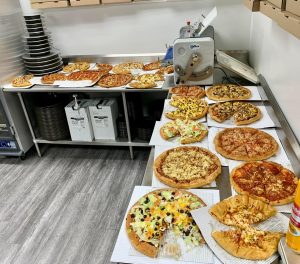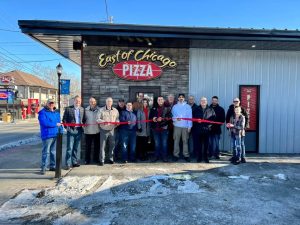 By Mary Heinrich
Staff Writer
East of Chicago Pizza located at 343 Pike Street in Shinnston is this March's business of the month.  If this address sounds familiar, it is probably because it is the site of the old Shinnston Dairy Queen.  
With the opportunity in front of him and his family backing him, Jeffrey Chalfant jumped into the world of business ownership at the age of eighteen. Chalfant purchased the Dairy Queen building at the same time he purchased Vincent's Lumber Yard.
Chalfant desires to learn from those around him.  The young entrepreneur took the time to learn the ropes of the lumber yard from Louie Smith, the retiring owner, and realized that the wisest plan of action was to operate the lumber yard until he could renovate the building next door. 
In 2019, his dream was fully realized when he was able to bring East of Chicago Pizza to the people of Shinnston. 
Chalfant reported that many chain restaurants were unwilling to move to a small community. But he was not to be deterred, and the franchise owners of the East of Chicago Pizza were completely on board with starting up shop in a neighborhood like Shinnston.  After tasting East of Chicago's pizza on an out-of-state trip, Chalfant knew it would do well in this area. 
It turned out to be such a good fit that Chalfant was able to open a second store in January 2022. His second restaurant is located in downtown Bridgeport.  Once again, Chalfant has chosen a structure known in the city.  His newest venture is located in the old MPB Print and Sign building.
His eagerness to retain the buildings which have become landmarks in the area has proven to be a hallmark of his business practice. In an earlier interview with the Shinnston News, he said he is willing to maintain local history while bringing the future of industry  to the area.  In all three of his local businesses, the buildings have been remodeled to include many technological upgrades.  However, with all of the updates, all of the buildings have retained their basic structures.
While they are all small businesses, Chalfant employs roughly forty people throughout the county.  Also, all three of these endeavors have thrived throughout the COVID pandemic, when many others have, sadly, seen their doors closed. 
  Chalfant has admitted that COVID-19 has brought some changes and difficulties for his business.  He was able to stay open through the shut-down, but like other businesses, had to heed the mask mandate and to keep his employees six feet apart whenever possible.  
Chalfant has also experienced some supply chain difficulties, although he said that his supplier has been very consistent and has been able to substitute for most supplies they have not been able to procure.  The store has had to switch from the East of Chicago labeled boxes to plain brown boxes and did have a short period of time when chicken wings became a bit of a problem.  
The young entrepreneur says he has had more trouble with the cost of goods which is on the rise.  He said that he may be forced to raise the prices on a few items, despite his best efforts to refrain from passing those increases down to his customers.
Chalfant said that he very much appreciates the people of Shinnston because they are "definitely a supportive community" that "tries to support those in business as much as possible before traveling elsewhere."
As for his expansion into Bridgeport, Jeffrey says that this "just fell into place."  With the early success of his lumber yard and pizza chain, he was approached about opening a second site within three months of opening his Shinnston store.  He knew then that the timing was not right.  However, in June or July, when a company he did business with decided to put the business up for sale, Chalfant felt the time was right.  From there, everything "just fell into place.'  
The expectations for this new store are as strong as those for the Shinnston site.  While Chalfant realizes that the competition is more notable in Bridgeport, he is also certain that East of Chicago Pizza offers a product which is set apart from other pizza places.  He is also counting on the higher rate of traffic and the wide delivery zone to assure success.
  Jeffrey recommended that other young people considering opening businesses should trust their judgment and work hard.
"Do not let negative comments get you down, learn from them and do better the next time.  People are going to tell you 'That will never work' but you must learn that for yourself…trust your instinct," he said.