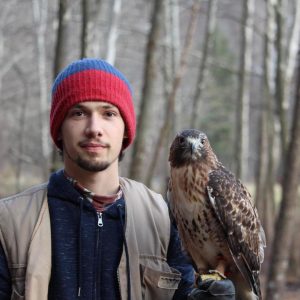 Formerly known as the West Virginia Raptor Rehabilitation Center (WVRRC), the newly named WV Raptor Center has restructured and plans to move to Tucker and Randolph counties, according to a news release from the organization. 
 The center's goals of rehabilitating birds of prey, training educational ambassadors, providing education programs, and supplying scientific data to share with other facilities and academia, remain the same. 
The Fairmont location will be used during the summer months after renovation is completed. 
Founder Michael Book established the center in 1983. After 38 years of caring for injured, orphaned and sick birds of prey and providing environmental educational programs, Book made the difficult decision to close the doors of the WVRRC in July 2021. All the birds housed at the center at the time were transferred to another facility. 
Just when it looked like this was the end of a much-needed service, Collin Waybright, one of the youngest Master Class Falconers in the state of West Virginia, contacted the center after receiving a call to pick up an injured raptor. Devastated upon learning the center was not in operation, Waybright, 22, decided to take on the challenge of keeping the doors open. Before assuming the role of executive director, Waybright had volunteered at the center since 2014.
The nonprofit has also established a board of directors, according to the press release. "We have a good solid Board of Directors that are all invested in seeing the WV Raptor Center succeed in its goals," said Chairman of the Board Marsha Waybright. The additional board members are Simeon Sheppard (treasurer), Luke Bucher, Asa Mullennex, and Dr. Bob Ebert. Volunteers include Tiffany Waybright (educational director and historian) and Whitney Mullennex (recorder). 
For more information on the WV Raptor Center or to schedule an educational program, please contact Executive Director Collin Waybright at 304-366-2867 or raptor@wvrrc.org.