By Maralisa Marra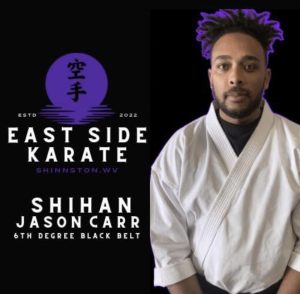 On June 1 at 5:30 p.m., East Side Karate held an open house at The Soapbox, where all were welcomed to watch or a try a free class. Shinnston native and owner of East Side Karate Shihan Jason Carr said that karate was a way for him to have fun and stay occupied as a kid. That experience inspired him to share the art of the sport with the Shinnston community.
Carr is a sixth-degree black belt who trained at Mushin Do Karate. "My dad and my uncle were my instructors growing up, so I've always done this since I was a little, little kid," he said.
Carr launched East Side Karate at The Soapbox on May 16. He teaches traditional Shotokan karate, a style of karate that was created by the late Gichin Funakoshi and characterized by its "highly concentrated striking, forthright blocking, powerful stances, and a series of captivating kata [forms]," according to the Global Martial Arts University. East Side Karate classes at The Soapbox are every Monday and Wednesday from 5:30-7:30 p.m.
At 5:30 p.m., Carr offers the three- to four-year-old class. At 6 p.m., he offers a class for ages five and up. Carr said he is accepting up to 10 participants for the three- to four-year-old group and the monthly fee is $35 per participant. As for the five and up class, the monthly fee is $65 per participant. Carr said he would like to accept 15 participants and 20 at the most.