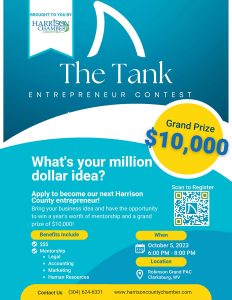 The Harrison County Chamber is planning The Tank Entrepreneur Contest, according to a news release.
Deadline to apply is July with the event to take place on Oct. 5 from 6 p.m. – 8 p.m. at the Robinson Grand.
Applicants have an opportunity to win a year's worth of mentorship (legal, accounting, marketing, human resources, etc.) and a grand prize of more than $10,000.  All contestants have the opportunity to gain support, guidance, and exposure for their business, along with the possibility of being picked up by an Angel Investor and a Fan Favorite win.
Entry is available on the Harrison County Chamber website, www.harrisoncountychamber.com. To enter, entrants must complete and submit the online registration information  and mail registration to Harrison County Chamber 520 West Main St., Clarksburg WV 26301. Entrants must enter on an individual basis. No team entrants will be allowed.
The host and application committee will select applicants during the first week of May 2023. Selection will be based on application, balance sheet, business plan, and profit and loss sheet if applicable.
Phase Two:
Workshops and Coaching Classes:
The host will provide workshops and coaching classes three months prior to the contest to prepare contestants for the event. Participation is not mandatory but recommended. Pre -recorded pitch will be filmed during this time.
Awards and Grand Prize
There will be one grand prize winner that will receive a cash prize, thanks to the
sponsors of The Tank. Grand prize winner will also receive the benefits for a twelve month period after the contest is  completed. Benefits include but are not limited to the following:  Membership with the chamber, mentorship from accountants, attorneys, insurance specialist, financial planners, financial institutions, human resource representatives, SBA representatives, etc., at the sole discretion of the host.
Fan Favorite
One entrant will be selected as fan favorite the night of the event and a portion of
ticket sales will be used as the fan favorite award.
Angel Investors
Angel Investors for all contestants may also be in the audience for opportunities to invest.
More information is at http://www.harrisoncountychamber.com/tank_about.cfm.