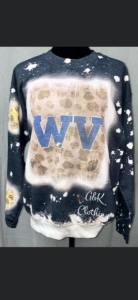 By SHEILA MCLAUGHLIN
News and Journal Staf Writer
From their home in Enterprise, West Virginia, Amanda
Stevens and fiancé Kyle Thompson have begun a trendy
new clothing line. The pair founded A&K Clothing just
this past February and have seen an enormous response
after shifting from online only sales to visiting local craft
shows and vendor markets. "Our business blew up after
attending the Buckhannon Barbeque Bash. Show casing
our product in person to the community was a total game
changer," said Amanda. "It really helped us to fine tune
what products buyers were interested in."
A&K Clothing offers a handful of different custom
bleach and screen-printed products created by hand
through a multi-step process, depending on the
purchaser's requested order. The company's biggest
seller, their sublimation tops, goes through a rigorous
process beginning with a sublimation print. Amanda
purchases her prints from another small business owner,
showing support for local entrepreneurs. The item then
goes through a commercial press and is then placed on a
form. To achieve the highly sought-after bleach effect,
Amanda custom sprays a bleach design on the item, then
neutralizes it with peroxide once the desired color tone is
achieved. The process no doubt is one of artistic flare.
Custom t-shirts, long sleeved shirts, hoodies, and custom
dye products are among those that can be purchased. Their
product list also includes home-made "car freshies".
In the coming 2022 year, Amanda and Kyle are hopeful
to bring brick and mortar to their business as they have
outgrown their home base accommodations.
In lieu of the approaching holiday season, A&K
Clothing is a great option when searching for the perfect
gift for your friends and loved ones. Those interested in
placing an order may contact Amanda Stevens through
Facebook at: fb.me/akclothingest2021 or by email:
AKClothingest2021@gmail.com.