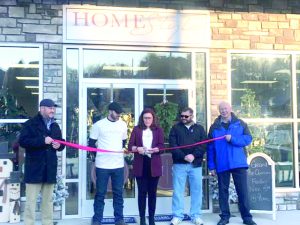 By SHEILA MCLAUGHLIN, News and Journal Staff Writer
Last weekend, on November 5th Home Style owner
Amanda Sayers, along with her staff, hosted a ribbon
cutting and grand re-opening event at their new 5,000
square foot building at 604 Pike Street in downtown
Shinnston. Faithful customers who have been patiently
waiting for the 'big day', showed up in a 'big way' to
show support. During the grand opening, their
annual Christmas Open House was showcased.
The event featured "Key to Adam", a beautiful string
musical ensemble consisting of one violinist and one
guitarist that entertained customers who eagerly began to
shop immediately following the ceremony.
Established in 2009, Home Style, a local boutique
featuring urban chic and farmhouse décor and clothing,
was purchased by Amanda Sayers.
"We just knew from the beginning that I was going to
take over regardless, it just happened a little sooner than
we had anticipated" stated former store manager Amanda
Sayers. Her journey with Home Style began in 2016. Ms.
Sayers had initially been hired to work only one day a
week to help coordinate events. A year or so later, she
accepted the position of store manager and as of October
2020, she officially became Home Style's new owner.
"We literally could not have completed this move
without our staff." commented Ms. Sayers. "A week ago,
we were just packing up the old store and moving."
"Beverly Bell is my right hand. She takes care of all the
things I don't have time to do. She keeps me on track one
hundred percent. Then I have Lisa Gallager, she takes care
of all my bookkeeping and is part of my paint team and
helps in the store. We also have Tammy Suarez, she's
been with us before and just came back to start working in
the shop and be part of our paint team again."
The store has several exciting dates planned. The
boutique will participate in Shinnston's "Small Business
Saturday" on November the 27
th
. Also, another customer
favorite, Urban Market pop up shop, will be returning in
December.
Amanda and her staff also formally announced on
Friday the launching of their new business in conjunction
with Home Style. "Your Style"- an upscale consignment
store, will feature consignment, vintage and new, at the far
end of the newly established Home Style location.
The home décor and more boutique is open Monday
through Saturday 10am to 5pm and Wednesdays 10am to
6pm.